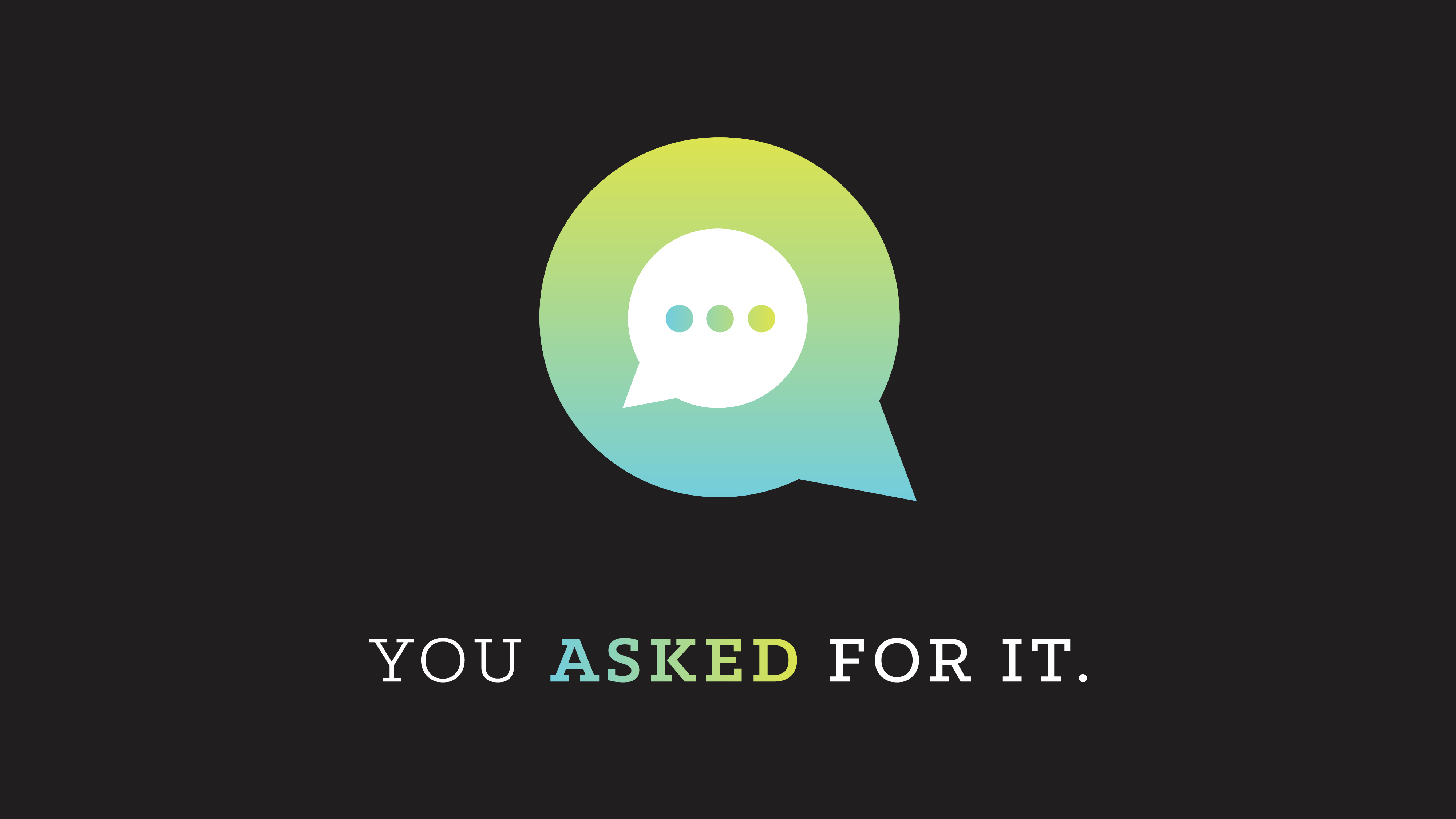 You Asked For It - Week 5
Does Belief In A Creator Mean That Evolution Is Impossible?
BEFORE YOU GATHER
Familiarize yourself with this Group Study Guide.
If you missed it, CLICK HERE to watch the weekend sermon.
Spend some time in prayer before your group gathers.
To prepare for discussion, CLICK HERE for a few facilitation tips.
As a leader you always have the option to use some or all the questions and/or write your own questions.
GROUP DISCUSSION
Opening Prayer: (1-5 minutes)

In light of what God is saying through this week's message, here's a suggestion of how your group can invite God into your time together.
Creator God, guide our hearts and minds as we explore and discuss this sensitive topic of creation and evolution. May we be full of love, grace and respect toward each other. Help us to remember the conversation around creation is not a "make or break" topic, and that we stand united in the Gospel of Jesus. We ask You to deepen our knowledge and love for how amazing You are.
Quick Connection: (5 minutes)
Describe a moment in past few weeks that made you realize that there has to be a Creator.
Group Discussion: (30 minutes)
This week we explore the different perspectives people have concerning how life began, learn how to carefully listen to the text, and how to extend grace toward one another when we don't agree. Remember, "I don't know" is a perfectly acceptable answer.
Open your bibles together and read Psalm 19:1-4, Genesis 1 and Genesis 2.
What has been your experience with trying to reconcile science and faith?

Summarize the three Biblical approaches of Creation that were talked about in the sermon (Young Earth Creationism, Old Earth Creationism, and Evolutionary Creationism). Discuss with one another which approach(es) resonate with you.

To read the Bible accurately, why do you think it is important to read it without imposing our own agenda, and by first identifying the Biblical genre and how the Biblical author wants to be heard?

Read Psalm 139. How does this passage demonstrate how each person is a specific, purposeful creation by God? Which parts especially stood out to you?

How does knowing that God designed you, and uniquely wired you with gifts, abilities, a personality and experiences that no one else has or ever will have, transform your faith in our Creator?
Closing Prayer: (5-15 minutes)
In light of what God is saying through this week's message, here is a suggestion of what your group could talk about with God in prayer.
Specifically pray as a group that God would reveal Himself as the Creator, and that the eyes of our hearts and minds would be open to seeing those moments.
CHALLENGE FOR THE WEEK
Read Psalm 19 and 139. Ask God to "big umbrella" of understanding to the concept of His creation. Ask Him to reveal places in your heart and mind where you have judged others whose opinions are different than yours, and reset your heart to keep first things first - that Jesus died and rose again.
RESOURCES FOR FURTHER GROWTH & DISCIPLESHIP