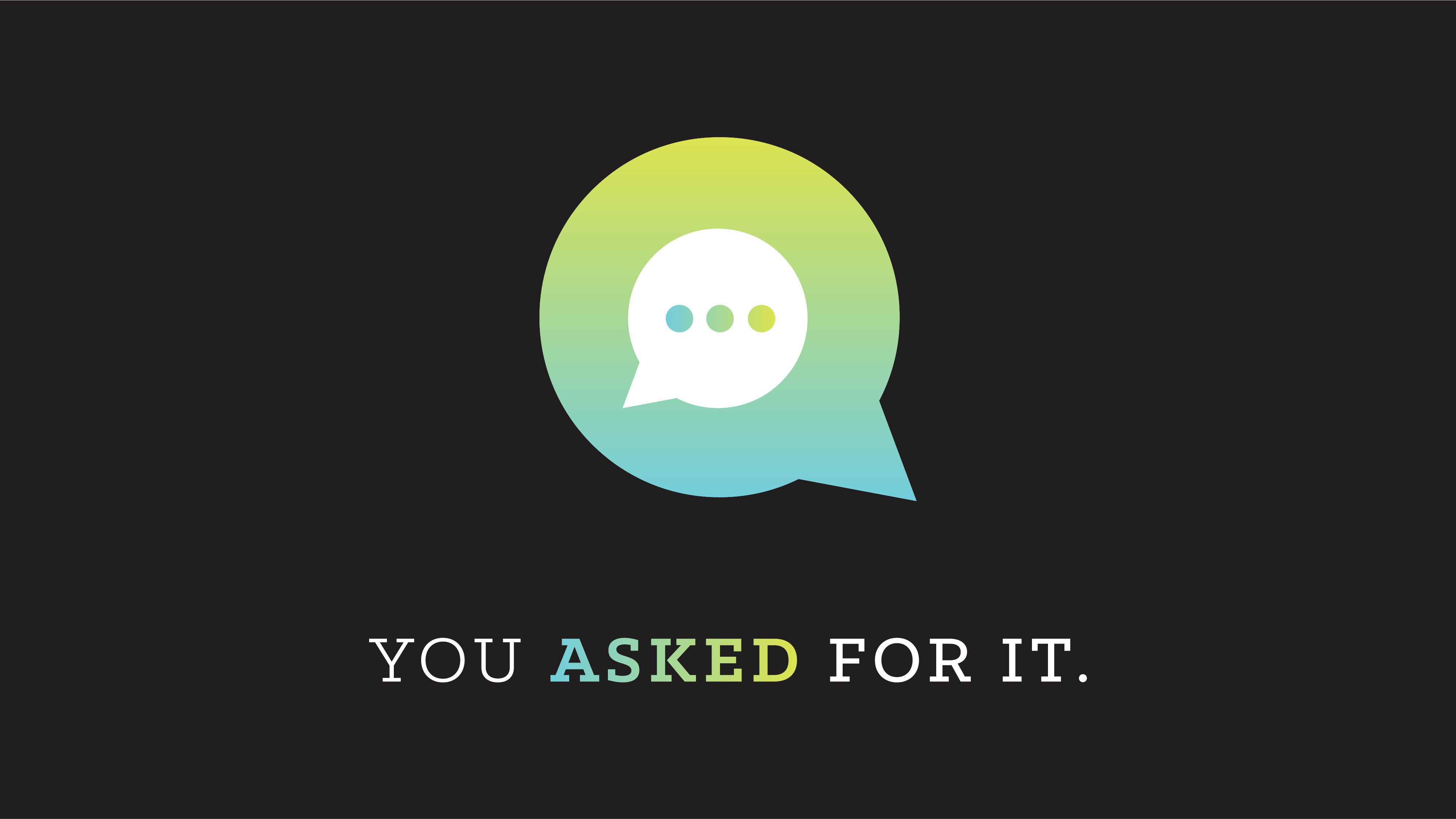 You Asked For It - Week 2
Why do bad things happen to good people?
BEFORE YOU GATHER
Familiarize yourself with this Group Study Guide.
If you missed it, CLICK HERE to watch the weekend sermon.
Spend some time in prayer before your group gathers.
To prepare for discussion, CLICK HERE for a few facilitation tips.
As a leader you always have the option to use some or all the questions and/or write your own questions.
GROUP DISCUSSION
Opening Prayer: (1-5 minutes)
In light of what God is saying through this week's message, here's some suggestions of how your group can invite God into your time together.
Pray for a spirit of sensitivity and understanding as we invite God to be present during our time together. Pray that we would be encouraged and refreshed as we hear about how God has worked through some of the more challenging times in our lives.
Quick Connection: (5 minutes)
What is one thing that is happening in the world right now that might raise someone's doubts about God's goodness?
Group Discussion: (30 minutes)
This week we will explore why good things happen to bad people.
Have each person look up one of the following verses and read them out loud to the group: Romans 8:28, Jeremiah 29:11, Romans 5:3-5, James 1:2-5, Psalm 13:1-6 and John 16:33.
What do these scriptures tell us about God's love and character when bad things happen? What does God promise? What are key words that give you hope?
What is a personal experience you have gone through or are going through that may have left you questioning God?
Which of the scriptures read above resonated with what you are going or have gone through? Why?
Which of these points resonated with you the most and why?

We are in a War Zone.
We are part of an Epic Love Story.
God doesn't want us to #Filter our Frustration.
God's Future won't waste our Present Pain.
We can say, "I know how you feel."
Because of the Already, the Not Yet will happen.

Share if you have experienced God's compassion, peace, and/or hope in the middle of a hard time?
CLOSING PRAYER: (5-15 minutes)
In light of what God is saying through this week's message, here's some suggestions of what your group could talk about with God in prayer.
Let's close our time together by praying the ALREADY (ask God to use us to help redeem and restore, just as he has redeemed and restored us), the NOT YET (we ask Jesus to bring His kingdom), and the ALREADY-NOT-YET (ask God to help us trust in His sovereignty). Let's ask God to help us in our struggle to trust Him fully, especially in the midst of difficult circumstances that have us questioning "why?"
CHALLENGE FOR THE WEEK
Think about one person in your life who is going through a difficult time, and how you would minister to that person based on one (or more) of the points from this week's message. Pray that God would present an opportunity for you to have a conversation with that person.
Invite someone to join you for next week's question, "How does prayer work? Why do some prayers get answered and others don't?"
RESOURCES FOR FURTHER GROWTH & DISCIPLESHIP