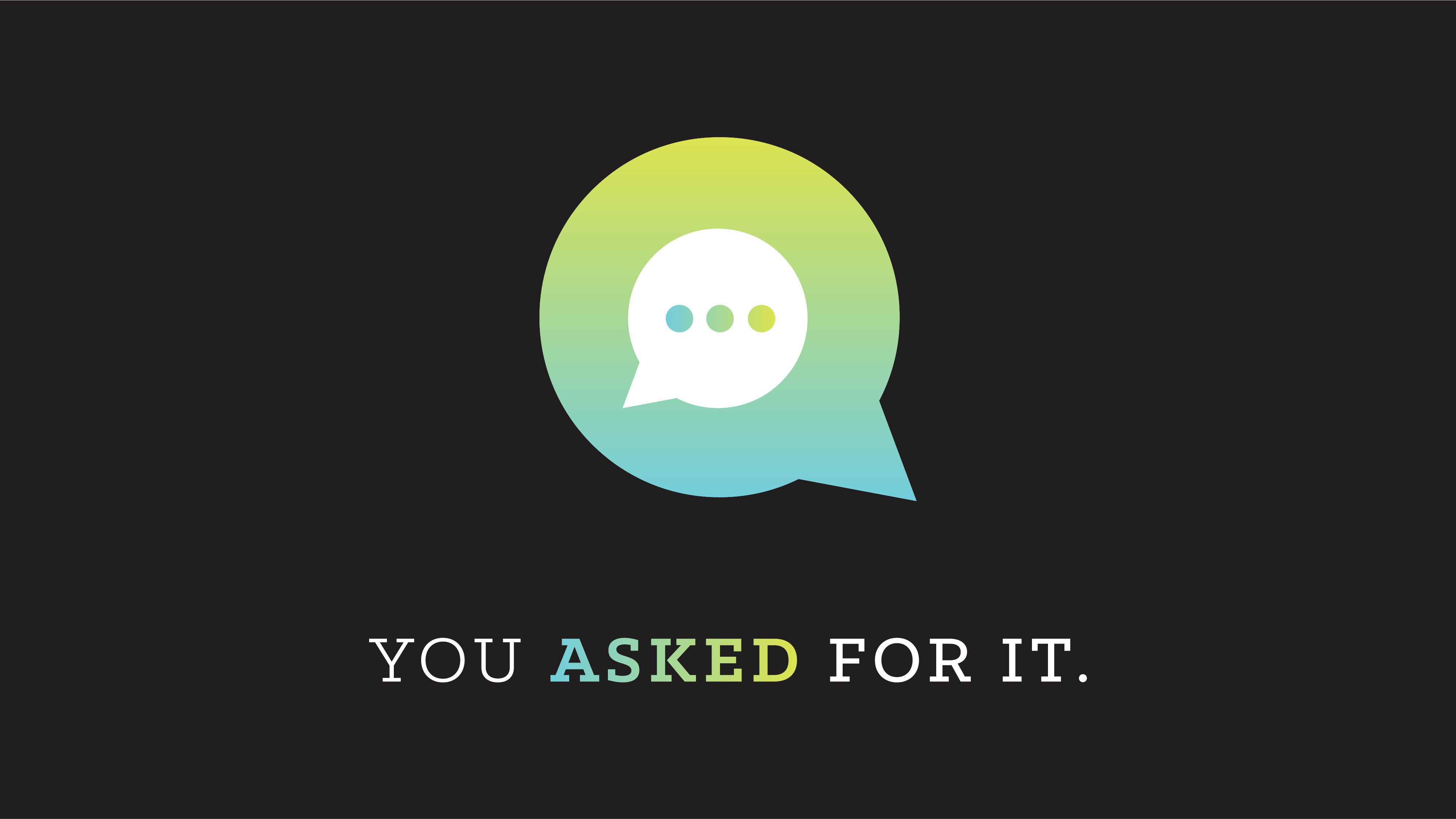 You Asked For It - Week 1
Why do Christians believe that Christianity is the only religion that can be true?
BEFORE YOU GATHER
Familiarize yourself with this Group Study Guide.
If you missed it, CLICK HERE to watch the weekend sermon.
Spend some time in prayer before your group gathers.
To prepare for discussion, CLICK HERE for a few facilitation tips.
As a leader you always have the option to use some or all the questions and/or write your own questions.
GROUP DISCUSSION
Opening Prayer: (1-5 minutes)
In light of what God is saying through this week's message, here's some suggestions of how your group can invite God into your time together.
As we open up our time together, let's commit to being gracious with one another, being aware of our differences. Let's ask God to guide our conversation and bring the Truth of His love and salvation to light. Let's be open to what God might want to teach us regardless of what we think we know or think we don't know.
Quick Connection: (5 minutes)

What has been your experience with religion, of any kind, in your life?
Group Discussion: (30 minutes)
This week we will explore the paradox of exclusivity and inclusivity.
Exclusivity of Christian belief/ Inclusivity of Christian behavior
Definition of Paradox - a seemingly absurd or self-contradictory statement or proposition that when investigated or explained may prove to be well founded or true.
Open your Bibles together and read 1 John 4:1-10.
Find in the scripture the exclusive and inclusive statements share with each other your thoughts.
How would you compare Christianity with other religions? What sets Christianity apart?
Which set of exclusive beliefs produces the most loving inclusive behavior?
Can you list anything that might get in the way of living out this paradox? (such as: Judgemental thoughts, anger, fear, performance, works, better than others)
Tell a story of how you have experienced Jesus and how His inclusive love changed you.

How might you reflect Jesus more and make it easier for people that are nothing like you to be drawn to the good news of the gospel?
Closing Prayer: (5-15 minutes)
In light of what God is saying through this week's message, here's some suggestions of what your group could talk about with God in prayer.
As we close in prayer, ask God what it might look like to be more inclusive and to reflect Jesus more. Pray that God would reveal how we might make it a little bit easier for people who are nothing like us… to like us. Pray that for those of us wrestling with our faith, that God would reveal His truth in a deeper way and strengthen our belief in Him.
CHALLENGE FOR THE WEEK
Meditate on 1 John 4:1-10. Pray and ask God to open your eyes to someone who will cross your path that you will extend inclusive love too. Pray that you can have a conversation about God's restoration of the world and his redemption of humanity through His unconditional love. Invite them to church next week.
RESOURCES FOR FURTHER GROWTH & DISCIPLESHIP