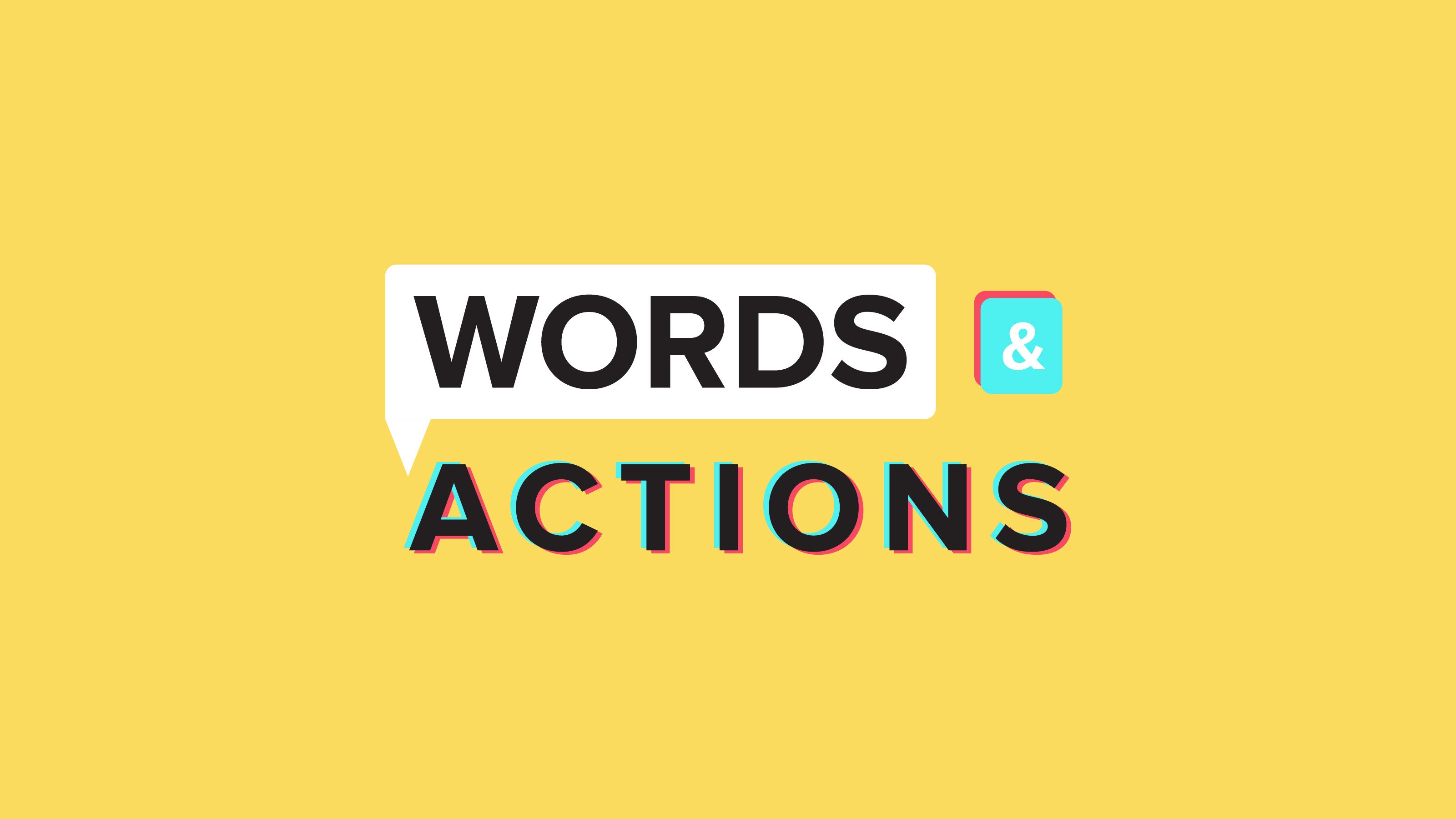 Words & Actions, Week 3 - Study Guide
Are a person's words or actions more important? Which speaks louder? Is what you say connected to what you do?
We can all agree that the connection between words and actions matter, even in the church. If left to our human nature, these two words are a ripple effect into a world of growth or decay. Let's intentionally look closely at the words and actions of JESUS from the book of Luke. This summer, let's explore what Jesus said and did and how His examples prompt and lead Cornerstone Fellowship.
---
This Week's Focus
This week (June 26 - July 2), we will look at Luke 4:31-5:32. The text below is the NIV translation. Feel free to read this same passage in various translations to provide additional context.
31 Then he went down to Capernaum, a town in Galilee, and on the Sabbath he taught the people. 32 They were amazed at his teaching, because his words had authority.
33 In the synagogue there was a man possessed by a demon, an impure spirit. He cried out at the top of his voice, 34 "Go away! What do you want with us, Jesus of Nazareth? Have you come to destroy us? I know who you are—the Holy One of God!"
35 "Be quiet!" Jesus said sternly. "Come out of him!" Then the demon threw the man down before them all and came out without injuring him.
36 All the people were amazed and said to each other, "What words these are! With authority and power he gives orders to impure spirits and they come out!" 37 And the news about him spread throughout the surrounding area.
38 Jesus left the synagogue and went to the home of Simon. Now Simon's mother-in-law was suffering from a high fever, and they asked Jesus to help her. 39 So he bent over her and rebuked the fever, and it left her. She got up at once and began to wait on them.
40 At sunset, the people brought to Jesus all who had various kinds of sickness, and laying his hands on each one, he healed them. 41 Moreover, demons came out of many people, shouting, "You are the Son of God!" But he rebuked them and would not allow them to speak, because they knew he was the Messiah.
42 At daybreak, Jesus went out to a solitary place. The people were looking for him and when they came to where he was, they tried to keep him from leaving them. 43 But he said, "I must proclaim the good news of the kingdom of God to the other towns also, because that is why I was sent." 44 And he kept on preaching in the synagogues of Judea.
5 One day as Jesus was standing by the Lake of Gennesaret, the people were crowding around him and listening to the word of God. 2 He saw at the water's edge two boats, left there by the fishermen, who were washing their nets. 3 He got into one of the boats, the one belonging to Simon, and asked him to put out a little from shore. Then he sat down and taught the people from the boat.
4 When he had finished speaking, he said to Simon, "Put out into deep water, and let down the nets for a catch."
5 Simon answered, "Master, we've worked hard all night and haven't caught anything. But because you say so, I will let down the nets."
6 When they had done so, they caught such a large number of fish that their nets began to break. 7 So they signaled their partners in the other boat to come and help them, and they came and filled both boats so full that they began to sink.
8 When Simon Peter saw this, he fell at Jesus' knees and said, "Go away from me, Lord; I am a sinful man!" 9 For he and all his companions were astonished at the catch of fish they had taken, 10 and so were James and John, the sons of Zebedee, Simon's partners.
Then Jesus said to Simon, "Don't be afraid; from now on you will fish for people." 11 So they pulled their boats up on shore, left everything and followed him.
12 While Jesus was in one of the towns, a man came along who was covered with leprosy. When he saw Jesus, he fell with his face to the ground and begged him, "Lord, if you are willing, you can make me clean."
13 Jesus reached out his hand and touched the man. "I am willing," he said. "Be clean!" And immediately the leprosy left him.
14 Then Jesus ordered him, "Don't tell anyone, but go, show yourself to the priest and offer the sacrifices that Moses commanded for your cleansing, as a testimony to them."
15 Yet the news about him spread all the more, so that crowds of people came to hear him and to be healed of their sicknesses. 16 But Jesus often withdrew to lonely places and prayed.
17 One day Jesus was teaching, and Pharisees and teachers of the law were sitting there. They had come from every village of Galilee and from Judea and Jerusalem. And the power of the Lord was with Jesus to heal the sick. 18 Some men came carrying a paralyzed man on a mat and tried to take him into the house to lay him before Jesus. 19 When they could not find a way to do this because of the crowd, they went up on the roof and lowered him on his mat through the tiles into the middle of the crowd, right in front of Jesus.
20 When Jesus saw their faith, he said, "Friend, your sins are forgiven."
21 The Pharisees and the teachers of the law began thinking to themselves, "Who is this fellow who speaks blasphemy? Who can forgive sins but God alone?"
22 Jesus knew what they were thinking and asked, "Why are you thinking these things in your hearts? 23 Which is easier: to say, 'Your sins are forgiven,' or to say, 'Get up and walk'? 24 But I want you to know that the Son of Man has authority on earth to forgive sins." So he said to the paralyzed man, "I tell you, get up, take your mat and go home." 25 Immediately he stood up in front of them, took what he had been lying on and went home praising God. 26 Everyone was amazed and gave praise to God. They were filled with awe and said, "We have seen remarkable things today."
27 After this, Jesus went out and saw a tax collector by the name of Levi sitting at his tax booth. "Follow me," Jesus said to him, 28 and Levi got up, left everything and followed him.
29 Then Levi held a great banquet for Jesus at his house, and a large crowd of tax collectors and others were eating with them. 30 But the Pharisees and the teachers of the law who belonged to their sect complained to his disciples, "Why do you eat and drink with tax collectors and sinners?"
31 Jesus answered them, "It is not the healthy who need a doctor, but the sick. 32 I have not come to call the righteous, but sinners to repentance."
---
Study Questions
Below is a list of questions designed to help you unpack, process, and apply the text at hand at a personal, community group, and broader Church level. These questions remain consistent every week. You are welcome to answer one, answer all, and/or supplement your own questions. This is a journey.
What is happening in this text?
What themes stand out to you in this text? Why?
How does this text point to living out the gospel?
Where do you see (or not see) this text being lived out in today's society? What stands out to you?
Compare and contrast this text to the life of the Church today.
Where in this passage is Jesus speaking directly to you? Explain.
Using His words and actions as your guide, where and how can you take action to move closer to Him this week?
---
What's next?
As you continue your week, we encourage you to explore our daily devotional guide, which offers more in-depth thoughts into the words and actions of Jesus.