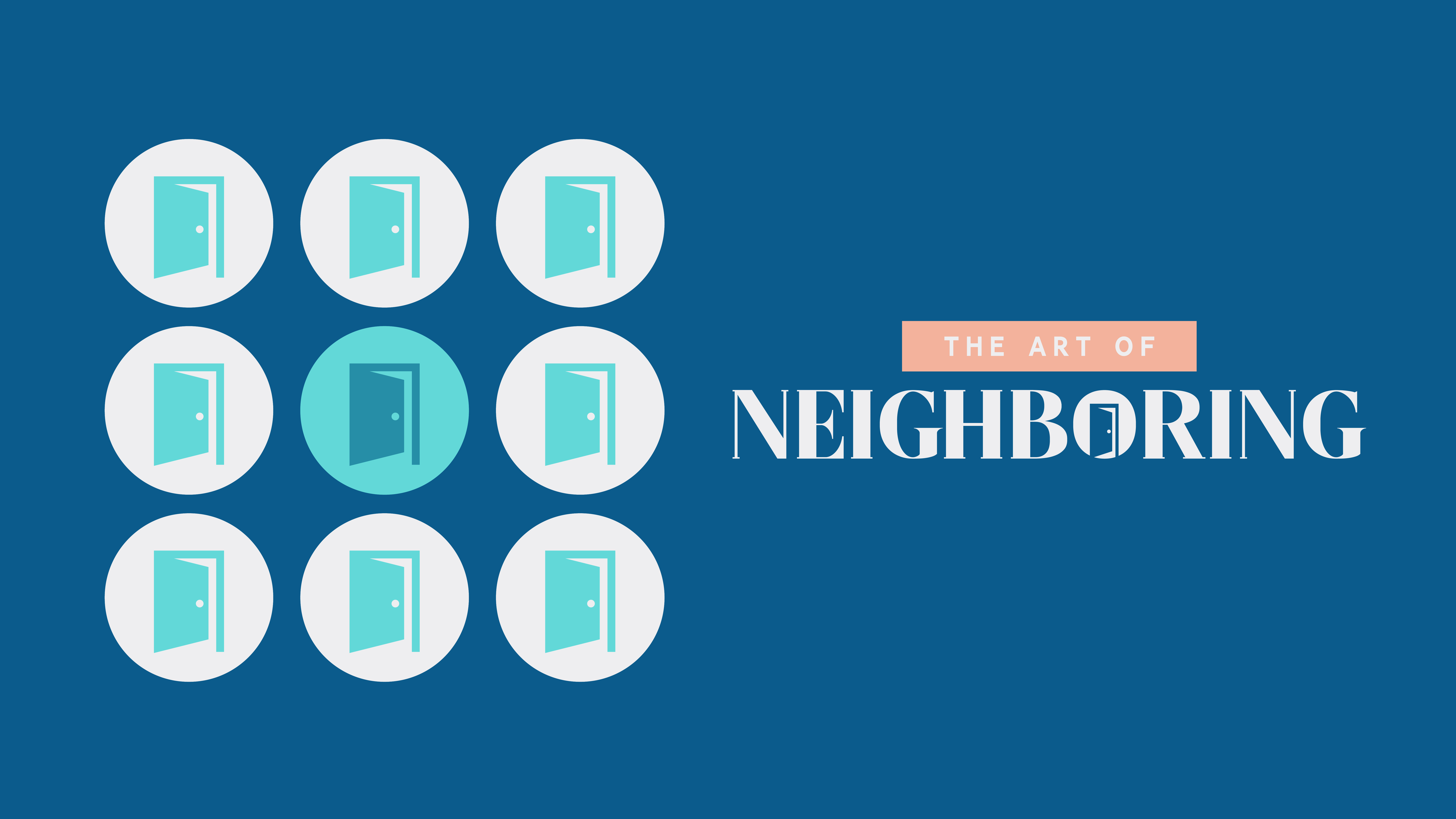 The Art of Neighboring - Week 2 - Study Guide
LEADER INTRO

Thank you for engaging with our weekly Study Guide! We're GLAD that you are here.

Each week, the study guide will start with a kick-off question followed by a short devotional video! From there, you can dive into some discussion questions...including relevant, and very timely things to consider! Leaders, for more info and ideas on leading your group, visit our sermon series resource page.

We encourage you to check out Daily Steps, our companion devotional guide — a resource to help you spend one-on-one time with God throughout the week using daily readings related to the week's sermon!
---
THE ART OF NEIGHBORING

In this series, we're taking a serious look at what Jesus has called us to do in terms of loving our neighbors.
This week, Pastor Diane Rutledge explored that the fear generated from false assumptions we may hold could be holding us back from getting to know our neighbors.
KICK OFF QUESTION
What is the silliest, most irrational fear you have? Why do you think you have this fear or where do you think it came from?
In today's discussion, we will consider how we can practically and intentionally cast aside our fears and concerns to better love our neighbors.
VIDEO
To begin, watch this video with a short message from Brentwood Pastor Clint Rutledge.


DISCUSSION QUESTIONS
As a group, consider these questions:
Read Numbers 13:28-32 and Joshua 2:8-11.
What did the spies report back to the Israelites? What did Rahab reveal to Joshua and Caleb?
What does the report from the 10 spies reveal about their view of God and His promises?
What does the report from Joshua and Caleb reveal about their view of God and His promises?
How does Rahab exhibit neighborly love to Joshua and Caleb? What makes her actions so remarkable?
Imagine someone saying to you, "Tomorrow, go and introduce yourself to your neighbor."
Share with the group or write down your immediate, automatic thoughts. What emotions do you experience when you hear this directive? What fears or concerns are generated when you think about this task?

Consider the validity of your thoughts, fears, and/or emotions. What is it about your thoughts, fears, and/or emotional response that is valid?

What assumptions are fueling your thoughts, fears, and/or emotional responses? For example, if your first response is, "I don't have time," what does that assume to be true about your schedule?

Share with the group any false assumptions you may have regarding getting to know your neighbors.

Or, share a story about a time when you made a false assumption about a neighbor and what happened later on when you learned the truth.

What are some alternate, more truthful beliefs that you can tell yourself instead of the common false assumptions we all struggle with?
Read 1 John 4:18. This passage teaches us that God's perfect love drives out fear and recognizes that there will be times when we are afraid.
In what way does this verse validate the fears you may have around reaching out to your neighbors?

In what way does this verse calm the fears you may have around reaching out to your neighbors?
Read Joshua 3:14-17. In this passage, Joshua commanded the priest to walk into the Jordan River during the flood stage while carrying the Ark of the Covenant. They obeyed and walked forward confidently believing that God would sustain them or provide a miracle.
Do you feel as if there is a flood-stage river between you and your neighbors? Are you uncertain as to how to get across?

How might this passage give you the courage to begin the process of building a relationship with your neighbors?

What parallels can you draw between this passage and God's promise to equip you in building relationships with your neighbors?
Share with the group one thing that you are going to do to reach out to a neighbor this week.
Decide when you are going to do it and add that commitment as a reminder to your calendar.

Are there things that you need to prepare or activities that you need to do in advance to reach out to that neighbor

Plan to report back to your group next week about how your interaction with your neighbor went.
TAKE YOUR NEXT STEP
Everyone has a next step with Jesus...What's yours?
Spend Time Alone with God

Daily Steps is a weekly devotional message designed as a companion to this sermon study guide. You will be guided as you spend time with God through personal reflection, Scripture readings, and prayer prompts.

DAILY STEPS - THE ART OF NEIGHBORING - WEEK 2
Watch CF Beyond Sunday this Monday!

After each sermon, our pastors and various church leaders sit down for about 20 minutes to have a lively discussion about the weekend's topic. It will be posted on our YouTube channel on Monday night, August 10!