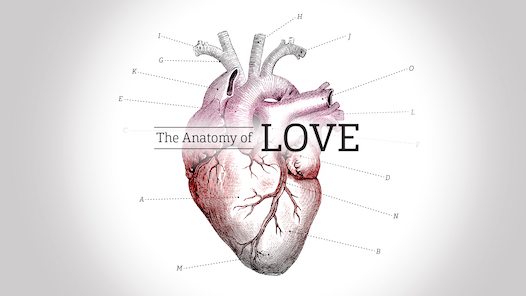 The Anatomy of Love - Week 3 - January 19/20
BEFORE YOU GATHER
Familiarize yourself with this Group Study Guide.
If you missed it, CLICK HERE to watch the weekend sermon.
Spend some time in prayer before your group gathers.
To prepare for discussion, CLICK HERE for a few facilitation tips.
As a leader you always have the option to use some or all the questions and/or write your own questions.

GROUP DISCUSSION
Opening Prayer: (1-5 minutes)
In light of what God is saying through this week's message, here's some suggestions of how your group can invite God into your time together.
Thank God that He CHOOSES to love us.
Thank Him for loving you and not expecting ANYTHING in return.
Ask Him to start breaking down the walls/barriers for those who struggle with understanding, believing or receiving His love in your group or in your wider circle.
Quick Connection: (5 minutes)
What is your favorite part of a wedding ceremony? What is your least favorite part?
Group Discussion: (30 minutes)
This week we will explore the truth, "God IS love." Take turns reading 1 Corinthians 13 out loud, verse by verse.
AGAPE: The kind of love that seeks the wellbeing of others without expecting anything in return.
What hurdles get in the way of someone fully understanding, believing and possibly receiving God's agape love for then?
Describe the difference between choice and obligation. What emotions are often associated with each word?
Pastor Billy explained the differences between essence (that which makes something what it is) and attribute (a quality that belongs to a thing). Take time to read through a few of God's essence AND attributes:
God's Essence
God is Light - (1 John 5:9; Psalm 27:1)
God is Spirit – (John 4:24)
God is Love – (1 John 4:8)
God's Attributes
Righteous - (Ezra 9:15)
Holy – (Revelation 15:4)
Sovereign – (Colossians 1:16)
Merciful – (Psalm 116:5)
Wrathful – (Romans 2:5)
Just – (Romans 3:26)
Referencing the incomplete list above, which essence or attribute would you add? Which essence or attribute do you resonate the most with during your current season in life?
Read 1 John 4:7-21. Since God IS love, what is our response to be to His love?
CLOSING PRAYER (5-15 minutes):
In light of what God is saying through this week's message, here's some suggestions of what your group could talk about with God in prayer.
Thank God that He calls each of us to Him by His love.
Ask God to begin showing each of you the barriers that may be in the way of you fully understanding His agape love for you.
Thank Him for his never ending, never failing agape love.
CHALLENGE FOR THE WEEK:
Take time to think, process and write out the ways that you SEE God's agape love for you - both in the past and today.
Memorize 1 Corinthians 13.
RESOURCES FOR FURTHER GROWTH, DISCUSSION & DISCIPLESHIP