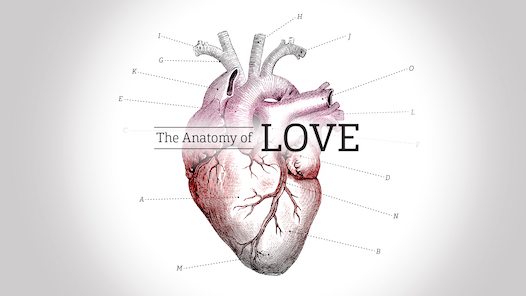 The Anatomy of Love - Week 1 - January 5/6
BEFORE YOU GATHER
Familiarize yourself with this Group Study Guide.
If you missed it, CLICK HERE to watch the weekend sermon.
Spend some time in prayer before your group gathers.
To prepare for discussion, CLICK HERE for a few facilitation tips.
As a leader you always have the option to use some or all the questions and/or write your own questions.

GROUP DISCUSSION
Opening Prayer: (1-5 minutes)
In light of what God is saying through this week's message, here's some suggestions of how your group can invite God into your time together.
Pray that as we gather for this new year that our hearts and minds would be open to the things God wants us to discover about Him and how much He loves us.
Pray that we would feel comfortable to share and be transparent with each other, and we would support and encourage one another in love.
Quick Connection: (5 minutes)

What would be in your TOP FIVE list of things you love?
Group Discussion: (30 minutes)
This week we will explore 1 Corinthians 13:1-3. Open your Bibles together and read 1 Corinthians 13 in it's entirety.
Why is having love for the people in your life the most important thing, more than doing good things for them?
Have you experienced unconditional, unearned love by anyone in your life? Who was it and how did you know they loved you this way?
Share of a time in your life when you realized that someone you thought loved you, actually didn't?
Share about a time in your life when you operated out of insecurity, selfishness, or pride, and did not show love.
God is the source of love. Read 1 John 4:7-19 together. What are truths about God's love in this passage?
What is the difference between trying harder to live out the attributes of love, and receiving and responding to the essence of God's agape love for you?
CLOSING PRAYER (5-15 minutes):
In light of what God is saying through this week's message, here's some suggestions of what your group could talk about with God in prayer.
For those of us who may never have been loved, pray that your community group would be a place that we would experience God's love.
Pray that we would be willing for God to begin the long and possibly painful process of "heart surgery".
CHALLENGE FOR THE WEEK:

Spend this next week receiving God's love for you. Sit with 1 Corinthians 13 and 1 John 4:7-19 each day and allow yourself to receive His love.
RESOURCES FOR FURTHER GROWTH & DISCIPLESHIP