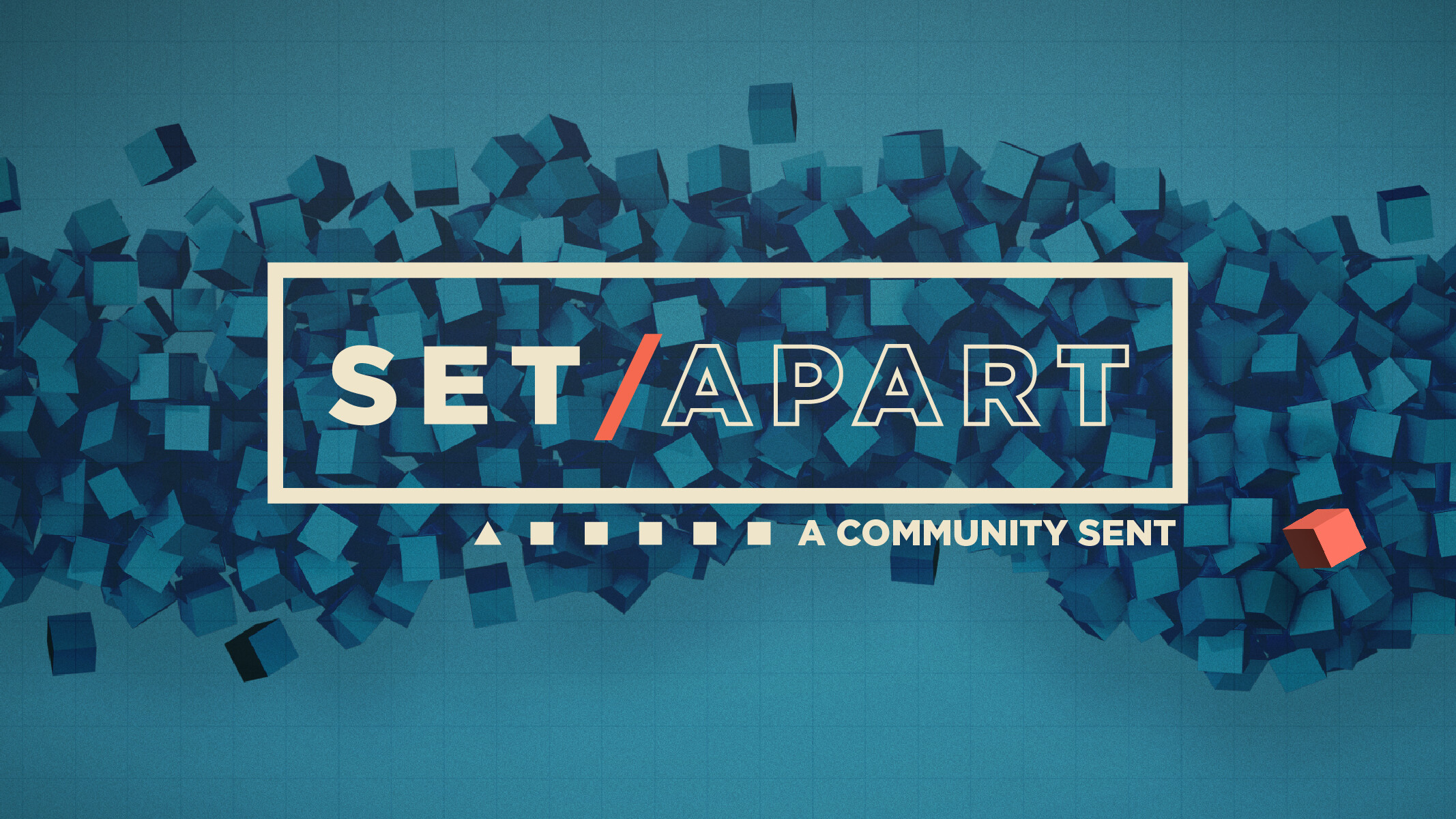 Set Apart - Week 6 - Conversation Guide
The Church has always had a purpose beyond itself. In John 17, Jesus prays for His followers to be "not of the world." Sometimes life makes us want to retreat from the world so that we're not influenced by it. But this was never Jesus' intention. Instead, Jesus' prayer in John 17 is for His followers to be "sent into the world." In stark contrast to the ways of the culture, Jesus calls His followers to live as a unique community and to demonstrate a better way: A set-apart community embodying a radically different vision for human flourishing.
---
Set Apart: Called to Rest in a Culture of Exhaustion
Our culture has a lot of reasons to be overcome with exhaustion. Even a casual analysis of those reasons fuels MORE exhaustion! Jesus-followers are set apart to be different. Over and over, and against our culture of progress, production, and burnout, we are invited to be a community of rest. We are called to embrace an alternate way of living. Right in the middle of all the chaos, turmoil, and heartbreak that life brings, Jesus wants to teach us how to be people of REST.
This week in CF Church Online, Becky Fitch continues the series. If you have not had a chance to watch her message, we highly encourage you to do so, as it will help provide context moving forward. You can WATCH IT HERE.
---
After Becky's message, she joined CF Church Online Pastor, Christiaan VandenHeuvel, for a conversation. Let's listen in! Their conversation will prompt you to think about the questions listed below.
Whether you find yourself with a group, a friend, a family member, or are by yourself, take some time to read, process, and discuss/journal through the questions below.
How would you describe "burnout" to someone? Have you experienced burnout? Talk about your experiences.

Read Matthew 11:28-30.

How do you relate to those verses? What emotions do these verses evoke?

We love God deeply, we just don't know how to sit with God anymore." A.J. Swaboda. What does it mean to "sit with" God?

Do you sit with God within your normal pace of life? How?
Sabbath is our spiritual practice this week.
"The Sabbath was made for man, not man for the Sabbath. Mark 2:27
Sabbath is the gift of getting to find delight in the midst of all of that. It makes no sense in our world for us to have rest. Yet we have been given it freely. As we set aside time, weekly, to relinquish control, to stop our work, stop our wanting, our planning, our striving, and instead rest; as we take Sabbath to delight, feast, play, and contemplate, we are refreshed and restored. Sabbath is meant to be a weekly glimpse, a regular taste, of the full rest and restoration we will experience in eternity with Jesus.
Through Sabbath we reflect, we remember and we are reformed and restored.

This week, we encourage you to practice Sabbath. Here are some tips for how we can begin to practice Sabbath.
1. Start where you can.

For most of us, having a weekly, 24-hour period of Sabbath probably seems pretty daunting; maybe even impossible. That's ok. Maybe you start by just having a weekly Sabbath meal, or a Sabbath afternoon, or a Sabbath (after the kids FINALLY go to bed) evening. Don't avoid it altogether if you can't commit to an entire day, every week. Start where you can and then build from there.
2. Have a preparation day.
In the Bible, we see that the day before Sabbath was called, Preparation Day. This is when all of the food preparation, cooking, cleaning, etc, things that needed to be done prior to Sabbath would be accomplished. That way when Sabbath arrived, they could be fully present; no longer focused on DOING but on BEING.
Think through non-work-related tasks you need to get done that week and plan time to complete them before your Sabbath Day. Otherwise, it will be very tempting to utilize your day of rest to do all of the non-work-related work things (grocery shopping, cleaning, errands, etc).
3. Create a list of life-giving things.

Think ahead and develop a list of things that pour into our lives: maybe it's being outside, going for a walk, or a hike. Maybe it's playing sports, cooking good food, taking care of your plants, laying in a hammock, music, dancing… whatever it may be for you.

Make a list together with your roommates, spouse or kids. If you have young kids it may not be an easy task to find things that bring life for you and your kids but it's important to include them in the process. What is it for you? It is important to know what breathes life into your soul, take note of it and pursue it.
4. Turn technology off.
Silence the things that numb you and rob you of your energy and joy. Turn your phone off, put it in a drawer, and hide the remote to your Apple TV. Or only use technology when it is helping you pursue rest or connect with others in meaningful ways. Do what you need to do to not let technology become the convenient go-to when you rest.
Let's be intentional and implement a Sabbath this week.