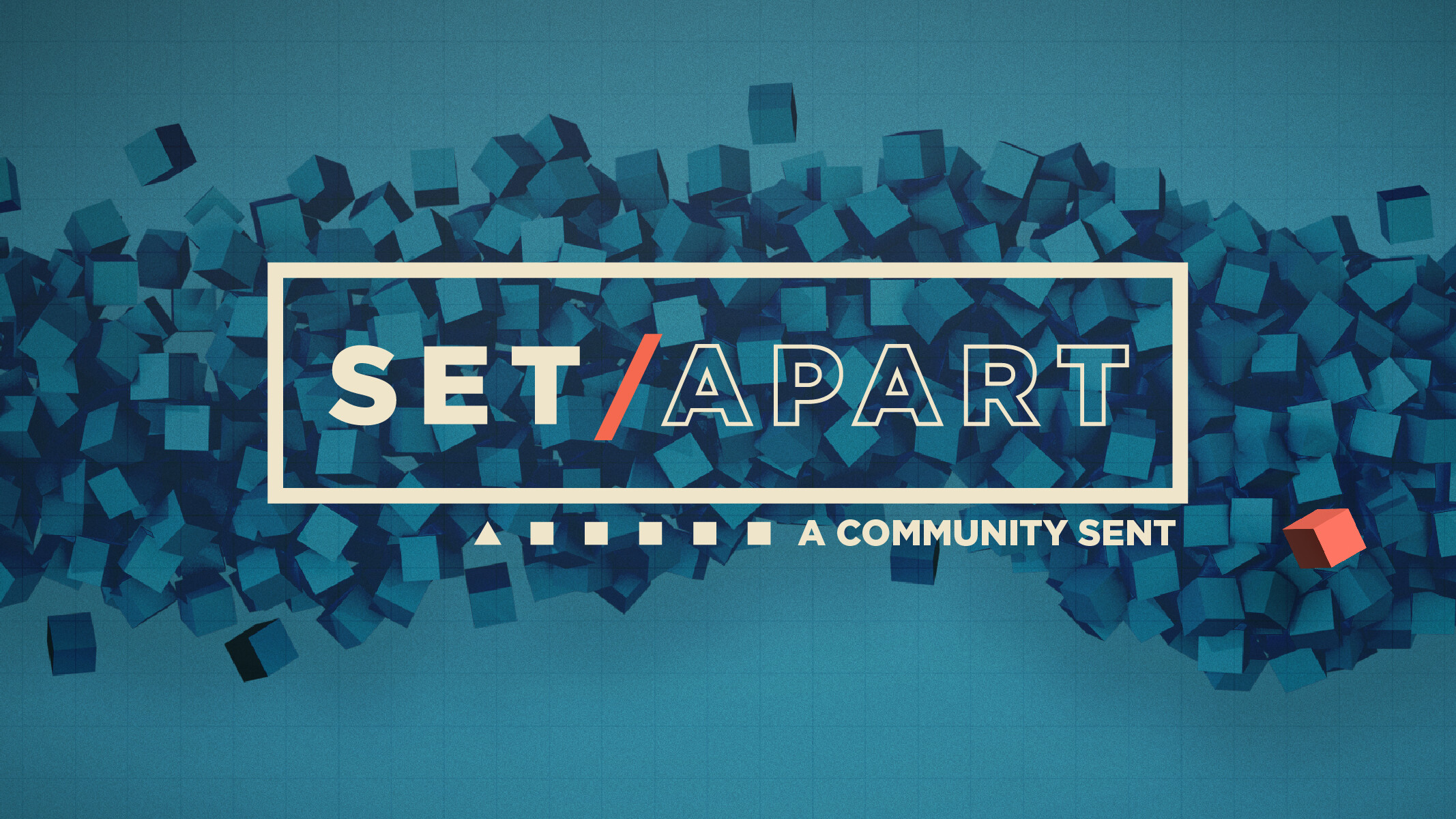 Set Apart - Week 4 - Conversation Guide
The Church has always had a purpose beyond itself. In John 17, Jesus prays for His followers to be "not of the world." Sometimes life makes us want to retreat from the world so that we're not influenced by it. But this was never Jesus' intention. Instead, Jesus' prayer in John 17 is for His followers to be "sent into the world." In stark contrast to the ways of the culture, Jesus calls His followers to live as a unique community and to demonstrate a better way: A set-apart community embodying a radically different vision for human flourishing.
---
Set Apart: Called to Holiness in a Culture of Moral Relativism
Our culture is great at overcomplicating life: what's the right thing or the wrong thing to do, what are the varying opinions, when to stop, and when to go. It's ALL so confusing! And yet, we are called to be "Set Apart." Set apart in this culture where the assumption is that it's best to subscribe to ALL OF THE IDEAS. So the question remains, how do we become more and more aware of what a life conformed to the character of God looks like?
This week in CF Church Online, John Orozco continues the series. If you have not had a chance to watch his message, we highly encourage you to do so, as it will help provide context moving forward. You can WATCH IT HERE.
---
After John's message, he joined CF Church Online Pastor Christiaan VandenHeuvel for a conversation. Let's listen in! Their conversation will prompt you to think about the questions listed below.
Whether you find yourself with a group, a friend, a family member, or are by yourself, take some time to read, process, and discuss/journal through the questions below.
What life lessons have you learned through being on a team?

Read 1 Peter 1:13-19.

What words/thoughts resonate or challenge you? Why?

1 Peter 1:13a NLT: "So, prepare your minds for action and exercise self-control..."
What in today's culture is complicating life? How do your distractions and desires differ from Jesus words and actions?

1 Peter 1:15 NIV: "But just as he who called you is holy, so be holy in all you do;"
How does this challenge you in how you live your life and the effect your life has on others?

What would change in you personally and relationally if you "say less, say no to yourself, say yes to Jesus"? How will you put this in practice this week?
Communal Fasting is our spiritual practice this week.

Spiritual Practice: Communal Fasting

All credit to John Mark Comer and Bridgetown Church from the article: https://practicingtheway.org/fast/part-one

BEGIN WITH PRAYER (5 MINUTES)

Gather together as a Community in a comfortable setting (around a table, on the couch, the floor of a living room, etc.). Have somebody lead a prayer asking the Holy Spirit to lead and guide your time together.
READ THIS OVERVIEW
Fasting is one of the most abused and least used of all the spiritual disciplines. Yet for millennia, it has been a core practice for apprenticeship to Jesus. All the great heroes of the Old Testament fasted. The first story we read about Jesus' adult life is of him fasting for forty days and nights, like Moses and Elijah before him. The central characters of the New Testament continued this practice, as did the early church, which fasted twice a week - every Wednesday and Friday - for over a millennia. It's not until quite recently that fasting fell out of favor.
And that comes as no surprise. We live in a culture not only of food but of excess and luxury and addiction to what psychologists call "the pleasure principle." Yet, for so many of us, the desires of our body have come to hold power over us. In the battle with our "flesh," we have become its slave, not its master.
Fasting is an ancient Christian discipline to break the power of the flesh in our life – our desires, sins, and cravings – and to feed on the Holy Spirit.
READ OVER THIS COMING WEEK'S PRACTICE AS A COMMUNITY (10 MINUTES)
Here's the Practice:
Set aside a day to fast. We recommend that your Community fasts together starting on the night you meet, but it's up to you.

Pick a time to end the fast. Our recommendation is that your Community starts your fast with your weekly meal tonight and goes through lunch tomorrow. Another option is the "regular" fast, which goes from sunup to sundown, about twelve hours – so you would skip breakfast and lunch and then eat a late dinner. You can make your fast longer by skipping more meals (perhaps fasting for a full twenty-four hours), or shorter by breaking your fast at noon or 3 pm. Again, it's your call.

As you fast on the day you decide, each time you feel a hunger pain or think about food or take a lunch break (with no lunch!), use it as a prompt for prayer. Turn your heart to God and ask him to starve your flesh and feed your Spirit. Use your imagination to "see" yourself drawing strength from God himself.

If you want a "value-added" experience, here are three other things you can do:
Break a Habit – Identify a specific sin or habit or pattern in your "flesh" that you want to break. Spend the day in prayer for freedom in that area.

Journal – Take a little time for self-reflection. Get your journal out or go for a walk and think about what this Practice is revealing about you. Richard Foster said, "Fasting reveals the things that control us." If you just feel "hangry" all day, or if you can't make it more than a few hours, ask yourself, "Why do I feel this way?" Treat yourself compassionately, as God does, yet honestly as well. Remember: the point isn't a guilt trip but freedom.

Read Scripture – "Feed" on the word of God, like Jesus did in the wilderness.
Come together as a Community next week to talk about your experience and pray together. Again, we recommend you begin your fast by skipping your regular meal and spend the time you are usually eating by praying together. But that's up to you!
CLOSE IN PRAYER
If you're not eating this evening, you might have a lot more time to pray. Take as long as you want. Perhaps start by reading a Psalm together and then spend some time asking Jesus to turn your affections to him. Ask him to reveal the areas in your flesh that need to be starved and begin praying into those. One option is to split into same-gender groups and, if people feel comfortable, share these areas that the Spirit is revealing and spend time praying together.