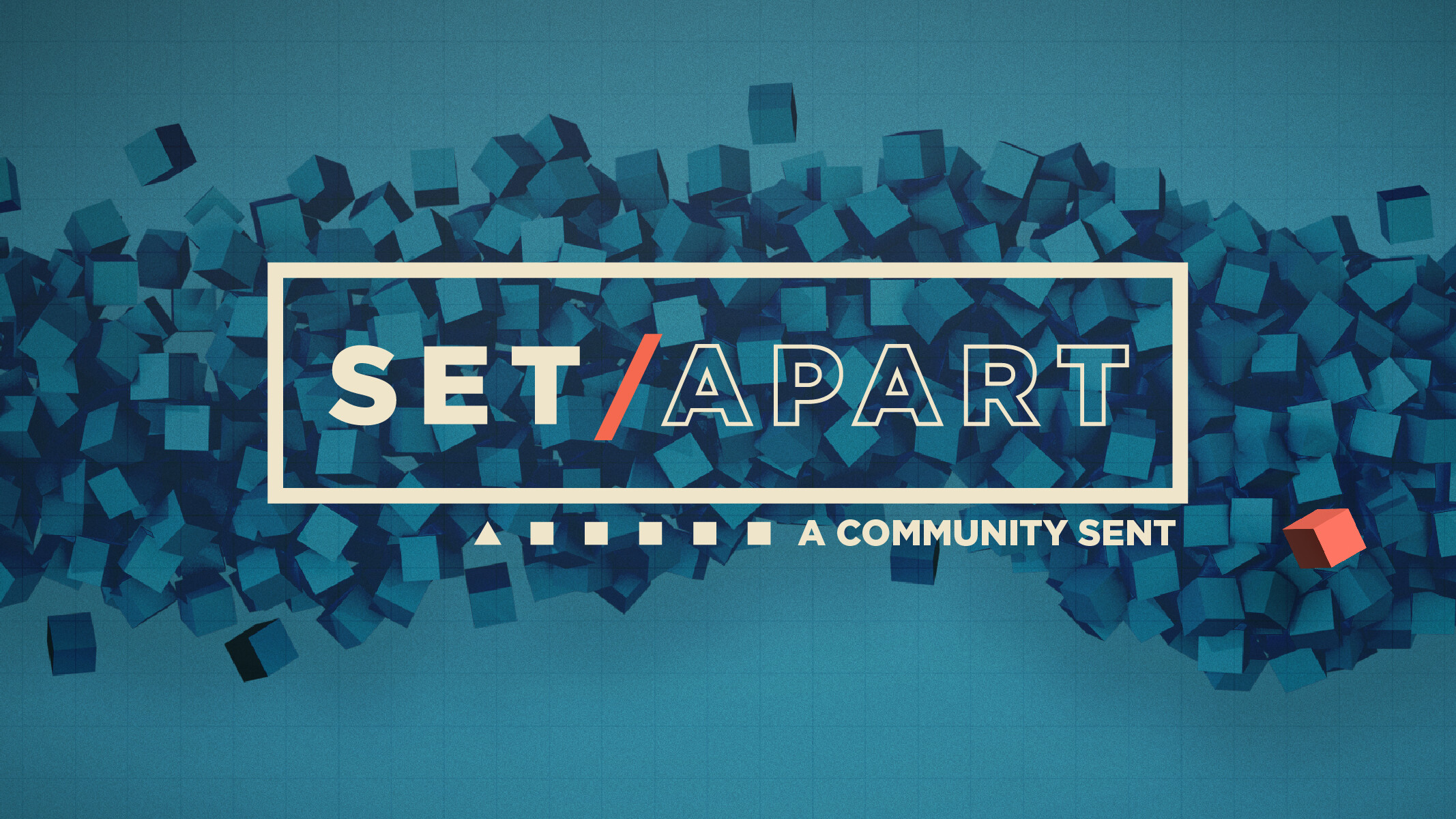 Set Apart - Week 1 - Conversation Guide
The Church has always had a purpose beyond itself. In John 17, Jesus prays for His followers to be "not of the world." Sometimes life makes us want to retreat from the world so that we're not influenced by it. But this was never Jesus' intention. Instead, Jesus' prayer in John 17 is for His followers to be "sent into the world." In stark contrast to the ways of the culture, Jesus calls His followers to live as a unique community and to demonstrate a better way: A set-apart community embodying a radically different vision for human flourishing.
---
Set Apart: Called to Unity in a Culture of Division
What should unity or oneness look like?
To be one doesn't mean we have to see everything the same way.
It doesn't mean we have to agree on all things.
It doesn't mean we are clones of each other, or we all have to vote the same way or have identical opinions on public policies. Jesus prayed for oneness because He knew that division was the greatest danger to the church. Also, He prayed for oneness because of what His spirit of oneness can do THROUGH us. Join us for week one of the new series, Set Apart: A community sent.
This week in CF Church Online, Becky Fitch starts the series. If you have not had a chance to watch her message, we highly encourage you to do so, as it will help provide context moving forward. You can WATCH IT HERE.
---
After Becky's message, she joined CF Church Online Pastor Christiaan VandenHeuvel for a conversation. Let's listen in! Their conversation will prompt you to think about the questions listed below.
Whether you find yourself with a group, a friend, a family member, or are by yourself, take some time to read, process, and discuss/journal through the questions below.
Read John 17:13-19. What challenges you in the passages?
What do you believe is the greatest danger to the Christian Church today?
What are the cause and effects of division? What are antidotes of division that would create the unity that Jesus prayed so earnestly for?
Describe a time when you encountered someone who had different views. How did you react? Did division or unity prevail? Did it hinder or help the relationship?
What would it look like to be a church that works in unity with our communities?
Prayer is our spiritual practice this week.
Take this simple unity prayer and continue to pray this throughout this week. Set it as the background image on your phone, and write it somewhere where you'll see it each day. When you gather with family, friends, roommates, or community group - pray this prayer together. May it not simply be words that we say but actions we live out as we pursue unity and oneness in Jesus.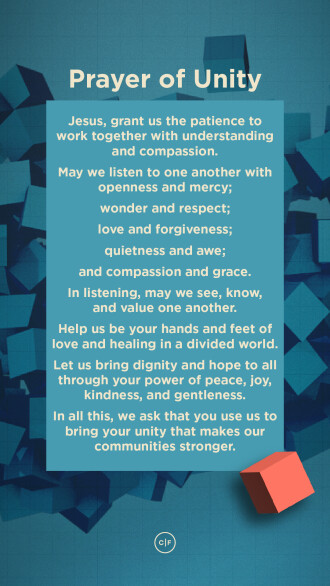 Jesus, grant us the patience to work together with understanding and compassion.
May we listen to one another with openness and mercy.
May we listen to one another with wonder and respect.
May we listen to one another with love and forgiveness.
May we listen to one another with quietness and awe.
May we listen to one another with compassion and grace.
And in listening, may we see, know, and value one another.
Help us be your hands and feet of love and healing in a divided world. Let us bring dignity and hope to all through your power of peace, joy, kindness, and gentleness.
In all this, we ask that you use us to bring your unity that makes our communities stronger.
Amen.