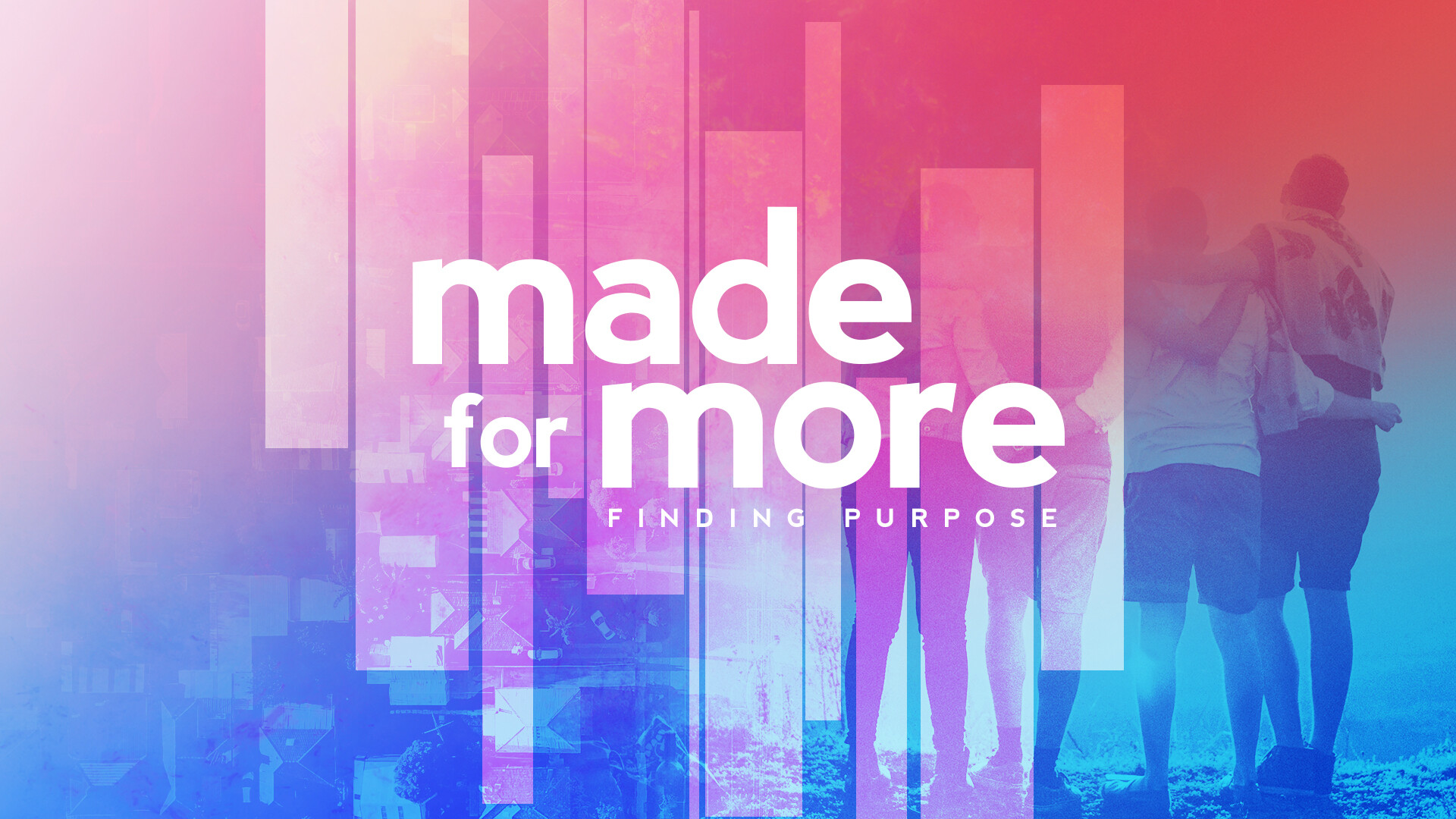 Made For More - Week 4 - Nov 24.25
BEFORE YOU GATHER
Familiarize yourself with this Group Study Guide.
If you missed it, CLICK HERE to watch the weekend sermon.
Spend some time in prayer before your group gathers.
To prepare for discussion, CLICK HERE for a few facilitation tips.
As a leader you always have the option to use some or all the questions and/or write your own questions.
GROUP DISCUSSION
Opening Prayer: (1-5 minutes)
In light of what God is saying through this week's message, here's a suggestion of how your group can invite God into your time together.

Dear Heavenly Father, thank You so much for all you have blessed us with: as individuals and as a church. Thank You for this opportunity for fellowship and to build community. Please help us to understand what "the more" is for our lives and that of our church. We pray that You would open our minds and our hearts to all that You have to teach us. We ask these things in Your Son's precious name, Amen.
Quick Connection: (5 minutes)

What is you favorite Thanksgiving dish--that delicious dish that you could always eat more of?
Group Discussion: (30 minutes)
Please read 1 Samuel 1:10-20 and Luke 1:5-25. In these passages, we see servants of the Lord who cry out to the Lord for "more".

What is something in your life that you could really use more of? Perhaps for new parents, it's sleep or for a busy working adult, it's time, or for a student, it's money--in this season of your life, what is it for you? Why? Have you asked the Lord for "more"?
Please read Ecclesiastes 1:1-4 and 2:10-11. Solomon wanted more, achieved it, and found himself profoundly sad and empty. Have you ever reached an achievement or acquired a goal and upon getting it did not feel that happiness or fulfillment you had expected? Share.
Israel expected a Messiah that would save them from their Roman overlords, but God sent Jesus the Messiah who would save them (and us!) from death. When has God given you a "more" that amazed you?
After Hannah left her son Samuel to work in the priesthood, he became a prophet and the leader of Israel. Zechariah's son was John the Baptist who prepared the way for Jesus. As Paul writes in Ephesians 3:20, God is able to do immeasurably more than we ask or imagine. How can we as the hands and feet of Jesus bring more to those around us?
CLOSING PRAYER (5-15 minutes):
In light of what God is saying through this week's message, here's a suggestion of what your group could talk about with God in prayer.

Thank You, Father, for Your love and provision. Thank You that You desire immeasurably more for us that all we can ask or imagine. By the power of Your Holy Spirit in us, may we serve Your Kingdom. In Jesus' powerful, life-giving, and forgiving name we pray, Amen.
CHALLENGE FOR THE WEEK:

Pray to see how you can connect with others in your community to help us all take our next step with Jesus.