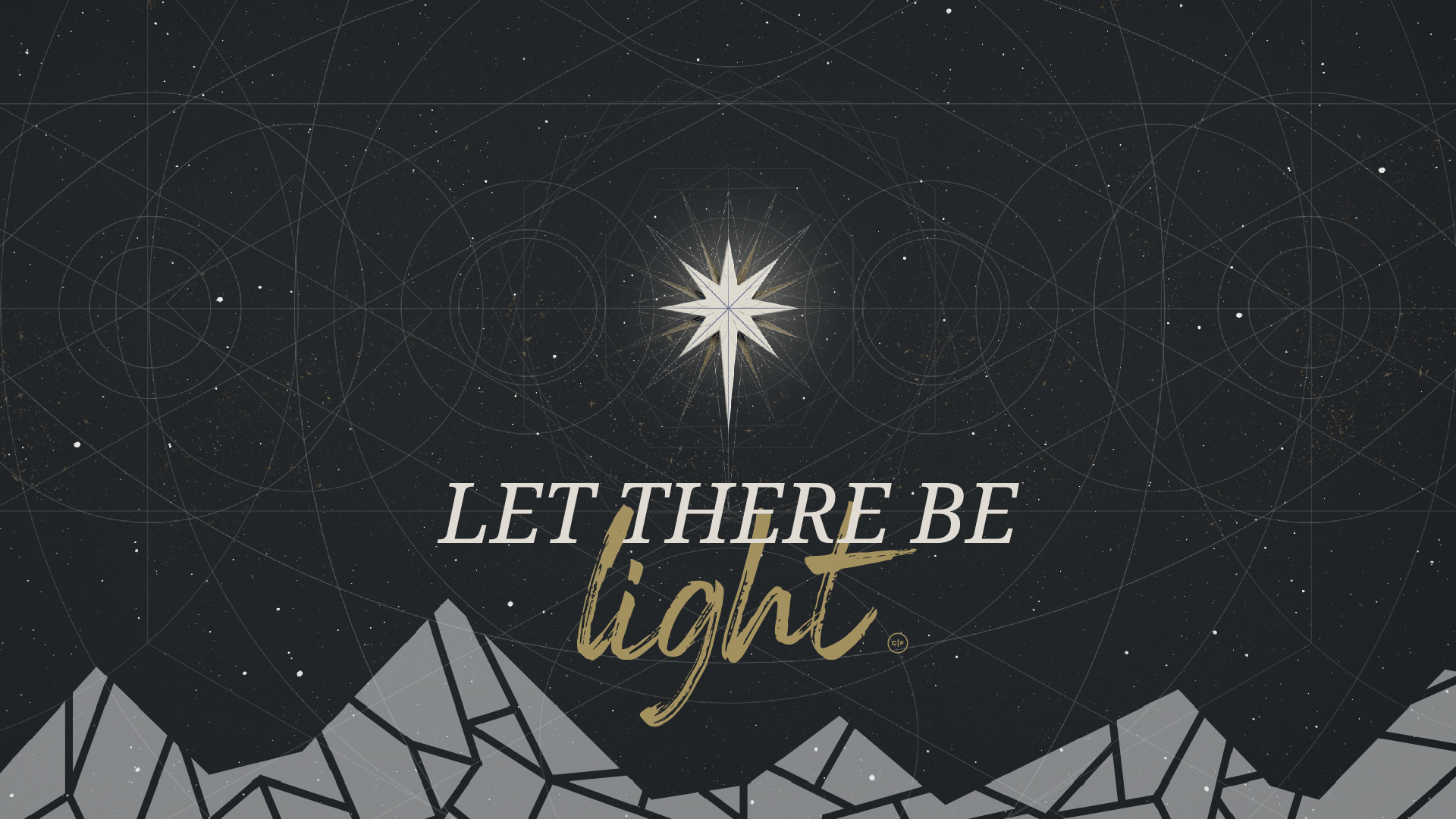 Let There Be Light - Dec 21.22
BEFORE YOU GATHER
Familiarize yourself with this Group Study Guide.
If you missed it, CLICK HERE to watch the weekend sermon.
Spend some time in prayer before your group gathers.
To prepare for discussion, CLICK HERE for a few facilitation tips.
As a leader you always have the option to use some or all the questions and/or write your own questions.
GROUP DISCUSSION
Opening Prayer: (1-5 minutes)
In light of what God is saying through this week's message, here's a suggestion of how your group can invite God into your time together.
Jesus, we celebrate that the world was made through You. Each person, every ocean, the flowers of the field, the sun that warms our faces. Everything You created was made for us with love, intention, expectation & purpose. We celebrate that you came into the World to save us. You promise to never leave us, You forgive us, You fill us with supernatural peace and joy, You provide counsel, wisdom and guidance. You give us rest; You give us hope. Remind us & equip us to be a light and to be the church everywhere we go, to be a reflection of Your true light. Help us shine in the places where that might feel too hard to do. Let our light shine in such a way that everyone around us may see Your good works & glorify God in heaven. We pray that Your light through us leads others to You. We pray this in Your powerful name Jesus, Amen.
Quick Connection: (5 minutes)
What is a Christmas gift you've received that you were not excited to receive? Was there a sweet story behind the gift you realized later?
Group Discussion: (30 minutes)
This week we will explore how Jesus was received when He came to Earth.
Open your Bibles and together read John 1:9-13.
Verse 9: "The true light that gives light to everyone was coming into the world."

The word TRUE is defined as "the perfect ideal."

Jesus' arrival in the manger pierced the darkness and shone a new, perfect light to all humanity like they had never seen before. This was His rescue plan all along.

How has Jesus' light rescued you? Share an example of how His rescuing light can shine through you to someone in your life.
Verse 10: "He was in the World, and the World was made through Him, and the world did not know Him."

We are living in a world that does not know its Maker. Where are the places it is difficult for you to share your light?
Spend time discussing how you can go & be the light to help fulfill Cornerstone's mission for the East Bay. Create a 2020 action plan together!
Serve
Serve the community in your neighborhood. Provide a meal, mow a lawn, write a note of encouragement. Let someone know that you see them and you care for them.
Share
Share your faith. Tell your story. Share where your peace, joy and forgiving heart comes from. Jesus!
Salvation
Begin to see yourself as the person to introduce someone to Jesus. Begin to see your break room, your carpool time, time with your friends/family as moments for Jesus to move. Pray that you are able to lead someone to Christ in 2020!
Verse 11: "He came to His own, and those who were His own did not receive Him."

This verse is deeply personal. Jesus was rejected in a place He would have considered safe, but His own family could not recognize Him for who He was.

How have your eyes opened to who Jesus is and how His light is changing the people around you?
Verse 12: "But as many as received Him, to them He gave the right to become children of God, even those who believe in His name."

We can't choose many things in life, but we can choose Jesus and we can choose Heaven.

With that choice we receive:

Community: A place of belonging.
Companionship: A friend in Jesus who will never leave.
The Kingdom: Life now and in the life to come.


As you close in prayer, take a moment to pray for people by name that need to take their next step and choose Jesus.
CLOSING PRAYER (5-15 minutes):
In light of what God is saying through this week's message, here's some suggestions of what your group could talk about with God in prayer.
Pray for the broken and hurting in the East Bay who are searching for community, companionship, hope and salvation.
Pray for people in our community who may be experiencing sadness and loneliness during the holiday season.
Ask the Holy Spirit how you can be someone to help bring community to someone in need.
Pray for direction on your next steps to serve and share, including opportunities to lead someone to Jesus.
Pray for boldness to be a reflection of the Light even when it feels difficult.
CHALLENGE FOR THE WEEK:
Be a light. Jesus came to His own and His own didn't know Him. The East Bay still doesn't know Him, and so we need to be a light and reflect His light. Since the East Bay isn't going to church, we have to be the church to them. Tell your story. Share your faith. Point to Him.
Keep your 2020 Serve/Share/Salvation Action plan somewhere you will see it frequently. Add items from the list to your daily prayer. Intentionally practice these steps in the new year.
Spend time worshiping the One who came to the world to bring Light & salvation to our darkness. Play one of these songs on Christmas Day! Celebrate Jesus!
Study Jesus' commission for all believers about shining your light:

"You are the light of the world. A town built on a hill cannot be hidden. Neither do people light a lamp and put it under a bowl. Instead they put it on its stand, and it gives light to everyone in the house. In the same way, let your light shine before others, that they may see your good deeds and glorify your Father in heaven." Matthew 5:14-16

Read this scripture daily. Memorize it. Commit to living it out.