Kingdom, Part 3 - Study Guide
We are SO glad that you are digging deeper into this week's sermon from Kingdom - Part 3!
This guide was written to help you process and better understand the message. Feel free to answer some or all of the questions or simply focus on one aspect from this study guide that speaks to the group. Think of this as a resource to help you and your group listen to the Holy Spirit and respond to His calling.
Missed the sermon? Click here. Are you a group leader looking for additional resources? Click here. Looking to download a PDF version of this week's study guide? Click here.
---
Kingdom: Unlike Any Other

Throughout this series, we encourage you to consider this question:
After studying what Jesus says about the Kingdom of God, how can we be better representatives of His Kingdom here on earth?
Below are pictures of a church in Dresden that was rebuilt after being bombed during WWII.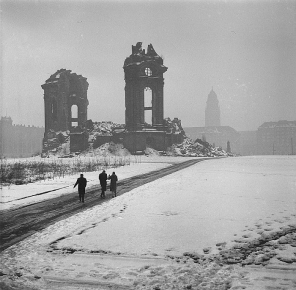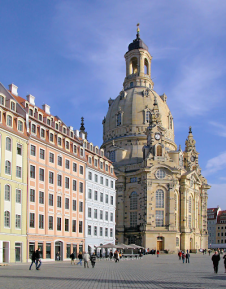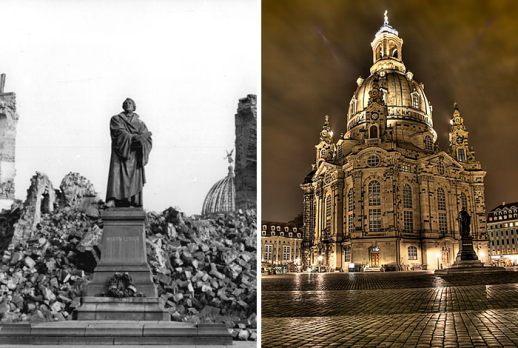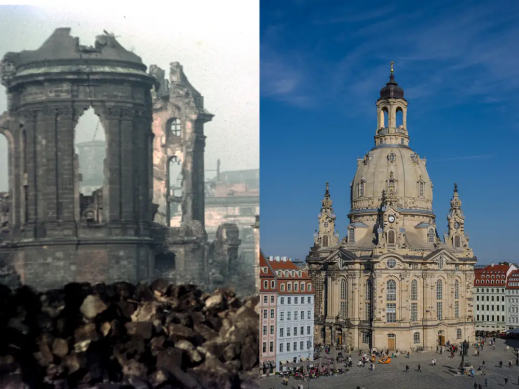 Imagine the emotion felt by this community's people and the mourning that occurred when this sacred space was bombed.
What might they have experienced? How would you imagine they were feeling?
Why is the reconstruction of this building so powerful? What messages does rebuilding send? What kind of people would choose to rebuild?
The rebuilding process adds to the richness of this place. How was the significance of the structure magnified in its reconstruction?
Pastor Steve said there is a real human need driving us to want to be a part of something big, something revolutionary, to be a part of a solution. Pastor Steve asserted, "It's part of God's image in us."
---
What is Jesus teaching me about His Kingdom?
In the same way architects, builders, designers, masons, and other specialists worked together to restore the Frauenkirche Church in Dresden, Jesus calls together his specialist to rebuild his Kingdom. His Kingdom's state was in such ruins, one of the first things Matthew records is Jesus' vision of what His restored Kingdom would look like.
Read Matthew 5:1-12.
Take a minute to discuss your observations about what Jesus wants his Kingdom to look like.
In what ways do you feel that this vision is contrary to the current state of things? How does our culture promote/support something different then what Jesus is trying to build?
Pastor Steve went through each statement Jesus made in the Sermon on the Mount. Take one or two (or three or ALL) and relisten to that part of Pastor Steve's sermon. Then consider the following questions:
Blessed are the poor in spirit, for theirs is the kingdom of heaven.
Do you feel like you are looking for God, or do you feel like God has found you?
In what ways do you feel "poor" in spirit? Are there parts of your faith where you feel tension?
What does the promise that "Yours is the kingdom of heaven" mean to you?
Blessed are those who mourn, for they will be comforted.
Is there a place of grief in your life where you are craving comfort?

Consider that grief includes losing someone you love, losing a job, a relationship, a residence, etc.…

Pastor Steve said, "In grief, we discover what we really want, eventually making grief a blessing." Notice the progression of grief - discovery - blessing. Where are you in this process? Is this the time to sit with grief and let it be a part of you? Is it a time of discovery? Is it a time to feel/experience the blessing? Prayerfully ask God to show you where He is with you in this process. Ask your group members to pray that you would have the courage to be where he wants you to be at this moment.
Blessed are the meek, for they will inherit the earth.
Pastor Steve defined meek as humble and teachable. Are there patterns in your life of frustration, disappointment, devastation, etc.?Take a minute to pray over these patterns. Ask your group or a friend to pray with you. What can you learn from these cycles? What do you think God is teaching you?

Is there an area in your life you are trying to control, but God is calling you to let go? If you feel comfortable, share the circumstances with your group. Ask for prayer for courage to let go.
Blessed are those who hunger and thirst for righteousness, for they will be filled.
Pastor Steve asked us, "How hungry are you, how thirsty are you for righteousness?" Pray over this for some time.

He listed several ways that we demonstrate our hunger and thirst. He asked, "Who do you know doing this well?" Share examples of people doing this well with your group.

Is there a call you've been feeling to light up the darkness in a new way? Can you discuss this with your group? Consider explaining what you see as obstacles to fulfilling this call? What is holding you back?
Blessed are the merciful, for they will be shown mercy.
Have you experienced mercy from someone? Or, conversely, has there been a time you needed mercy but it was not given?

Is there someone in your life who needs mercy?

Ask your group to pray through this relationship with you. Consider writing down what mercy would look like in this situation. Identify nagging, unproductive, destructive thoughts you have regarding this relationship that you can change.

Ask your group to pray over new thoughts/perspectives you can choose to replace the unhealthy thoughts.
Blessed are the pure in heart, for they will see God.
What do you expect to see when you watch the news, drive to work, sit down at dinner with your family, receive a text message from someone who bugs you?

What would it cost you to believe the best? What is the risk?

What is God calling you to surrender so that you can believe and expect the best from those whom you assume the worst?
Blessed are the peacemakers, for they will be called sons of God.
Do you feel called, specifically, to bring peace into a tension-filled situation?

Do you see a place of injustice that you want to correct? What are some steps that you are considering in rectifying the injustice?

Pastor Steve challenged us to love stubbornly. How can your group support you in doing this?
Blessed are those who are persecuted because of righteousness, for theirs is the kingdom of heaven.
How can we pray for and support the persecuted church?

In what way can your small group be the Kingdom of God to His people who are worshiping where it isn't safe to do so?
The Frauenkirche Church was leveled after three days of bombing in 1945. However, reconstruction didn't begin until 1995. In much the same way, the Kingdom of God laid in ruins for many, many years before Jesus came to start the rebuilding process. Much (so very much) still needs rebuilding.
This week, finish reading Matthew 5, 6, & 7.
Just as many different kinds of specialists worked together to rebuild the church, God has called us, a group of people with a range of specialties, to continue rebuilding.
Pray that God would show you in specific and in broad strokes what He has called you to rebuild, who in your life needs to experience these manifestos of Jesus, and the blessings you can pour out to the brokenness around you.
---
>> ADDITIONaL RESOURCE >>


Daily Steps


We encourage you to check out Daily Steps, our companion devotional guide for individual reflection, prayer, and meditation on related Scripture selections throughout the week!