Kingdom, Part 1 - Study Guide
We are SO glad that you are digging deeper into this week's sermon!
This guide was written to help you process and better understand the message. Feel free to answer some or all of the questions; Or simply focus on one aspect from this study guide that is speaking to your group. Think of this as a resource to help you and your group listen to the Holy Spirit and respond to his calling.
Missed the sermon? Click here. Are you a group leader looking for additional resources? Click here.
---
Kingdom: Unlike Any Other

Throughout this series we encourage you to consider this question:
After studying what Jesus says about the Kingdom of God, how can we be better representatives of His Kingdom here on earth?
This is a picture of Bodiam Castle in East Sussex, England.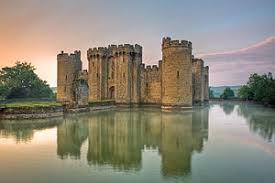 It was built in the late 1300 "for the defense of the adjacent country, and the resistance to our enemies."
What words/phrases come to mind when you look at this picture?
What is your impression of the builder/owner of this castle? Is the builder someone like you? Or is the builder someone quite different from you?
How would you feel if you were invited inside? Do you think you would be welcome?
Does this image make you feel safe or does it make you feel uneasy?
What does the quote below the picture say about the reason this castle was built?
Make a list of words or phrases that come to mind when you hear someone say: "The Kingdom of God."
What is your impression of the Kingdom of God?
Do you feel welcome in God's Kingdom? Do the people you know feel welcomed?
Does hearing the phrase, "The Kingdom of God" make you feel safe or uneasy?
Could or should the quote below the picture also be true of God's Kingdom?
---
What is Jesus teaching me about His Kingdom?
Read Luke 14:15-23
Pastor Steve Ingold focused on two words when he talked about God's Kingdom: Power and Exclusivity. Take a minute to develop a definition of each of those words with your group.
Read Luke 14. In this parable, the man planning the banquet models for us the way Jesus approaches His kingdom.
In what way does this man use his power or influence? In what way does the man throwing the banquet include or exclude people to his party?

In what way does this teach us about the way Jesus uses his power and authority in His Kingdom? In what way does this teach us about the way Jesus includes or excludes people in His Kingdom.

In what way does the man in the parable demonstrate sacrifice, surrender, and service? What are activities, commitments, or responsibilities you have where you could model these three attributes of God's Kingdom?
---
Pastor Steve explained to us that the Good News of God's Kingdom is not about power or keeping people out.
He also suggested that this "Good News" is often missed. Instead, the Kingdom of God can easily be made into a place that benefits and welcomes only one kind of person. Consequently, some people "get in" and some people "get left out."
Read Matthew 13:10-17. Together, pray that God would give His church "eyes to see and ears to hear" the good news of God's Kingdom.

Then, pick a Gospel (Matthew, Mark, Luke, or John) and commit to reading it this week As you read, write down the references Jesus makes to His Kingdom. What was Jesus doing when he was talking about his Kingdom? Who was he speaking to? What was the context/situation when Jesus was speaking? How do these verses support or challenge your understanding of the Kingdom of God?

Consider your discussion and reflections. Are there specific ways we, the Church, can better represent His Kingdom as a Kingdom of sacrifice, surrender, and service as we live out our faith this week?
---
>> ADDITIONaL RESOURCES >>


Bonus Video
Spend a few minutes with Worship Leader, John Orozco as he shares additional thoughts on this first week of the Kingdom series! Watch here.

Daily Steps


We encourage you to check out Daily Steps, our companion devotional guide for individual reflection, prayer, and meditation on related Scripture selections throughout the week!