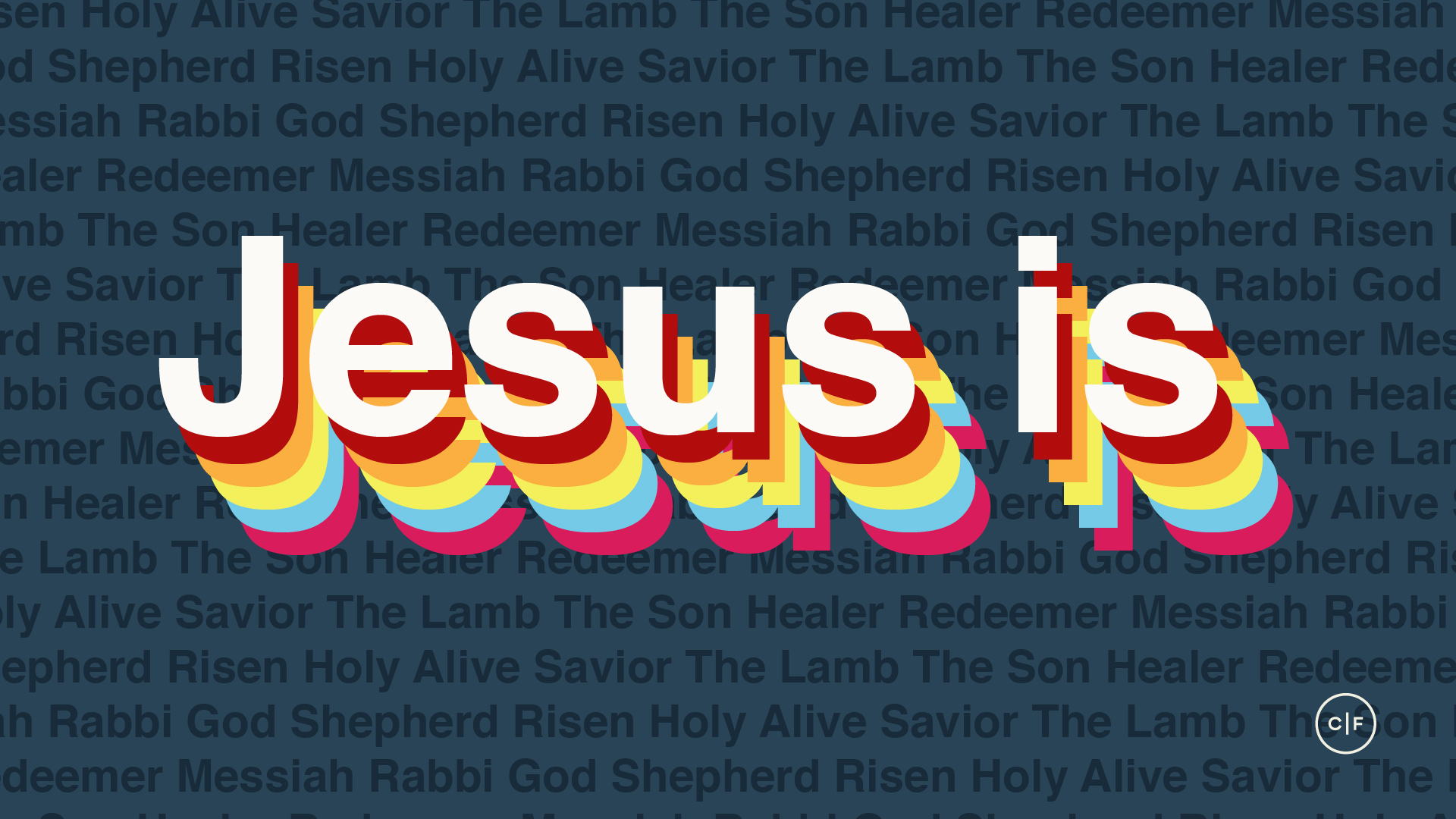 Jesus Is - Week 8 - Oct 26.27
BEFORE YOU GATHER
Familiarize yourself with this Group Study Guide.
If you missed it, CLICK HERE to watch the weekend sermon.
Spend some time in prayer before your group gathers.
To prepare for discussion, CLICK HERE for a few facilitation tips.
As a leader you always have the option to use some or all the questions and/or write your own questions.
Note to the Group Leader(s) - This weekend's message comes with the opportunity for a lot of inward reflection and potential verbal processing as a group. Please remind the group that honesty during discussion is key; as is confidentiality.
GROUP DISCUSSION
Opening Prayer: (1-5 minutes)
In light of what God is saying through this week's message, here's some suggestions of how your group can invite God into your time together.
Thank Him for your group and the opportunity it gives for REAL, honest conversation and spiritual growth.
Ask the Holy Spirit to lift any blinders that have been put in place that prevent us from seeing ourselves and each other as HE sees us.
Ask God to show each of us how we can better understand, grow and live out the truth Jesus taught.
Quick Connection: (5 minutes)

Think back to some of your childhood household "rules." As a kid, you probably disliked most, if not all of them. As an adult, do you find yourself still (consciously or unconsciously) following some of those rules? Why or why not?
Group Discussion: (30 minutes)
In this final week of the "Jesus Is" series, Pastor Steve Madsen further unpacked the truth that Jesus taught. This simple truth was so hard (and continues to be hard) for many to grasp. With all the "old rules" in hand, Jesus was opposed DAILY by the religious leaders of the law. Jesus' call to action to love God and to love others provides freedom...for everyone. Jesus is God's Truth.
Read Luke 11:37-54. Examine the "woes" that Jesus focuses on in this passage. Compare and contrast these woes to the woes of today.

Define "hypocrisy." What does hypocrisy look like in the passage above? Share an example of hypocrisy that you have been witness to.
What should JUSTICE/MERCY/LOVING GOD look like in our everyday lives?
Read Luke 18:9-14. It is easy to look around and judge others. What are ways we, like the Pharisee in this parable, miss the true heart and meaning of what Jesus teaches?

Covert ("secret") Pharisee-ism is dangerous because it isn't/can't be addressed head on. We overlook the Pharisee within in each of us, giving ourselves a pass. Have you experienced modern-day Pharisee-ism within yourself? If willing to share, what did healing look like?

Who in your life speaks truth to you ABOUT YOU? How do they do it? What is the result? Why is it important? How can you become more of this type of person to someone else - what will that take?
CLOSING PRAYER (5-15 minutes):
In light of what God is saying through this week's message, here's a suggestion of what your group could talk about with God in prayer.
"Jesus, we thank You for Your continual grace, love, hope, mercy and PATIENCE with us. We all struggle. We all wrestle to live this life you have called us to. It's not easy. As we continue to examine our own hearts this week, we ask that you speak to each of us and help us to break down the barriers we have built to keep our inner Pharisee at play."
PERSONAL CHALLENGE FOR THE WEEK:
What are ways YOU miss the true heart and meaning of what Jesus teaches? As Pastor Steve referenced, it is important to examine what needs to be clean IN us, instead of merely having our outside "look" clean. Take time this week reading through the red letters in the book of Luke. What is Jesus saying to you?