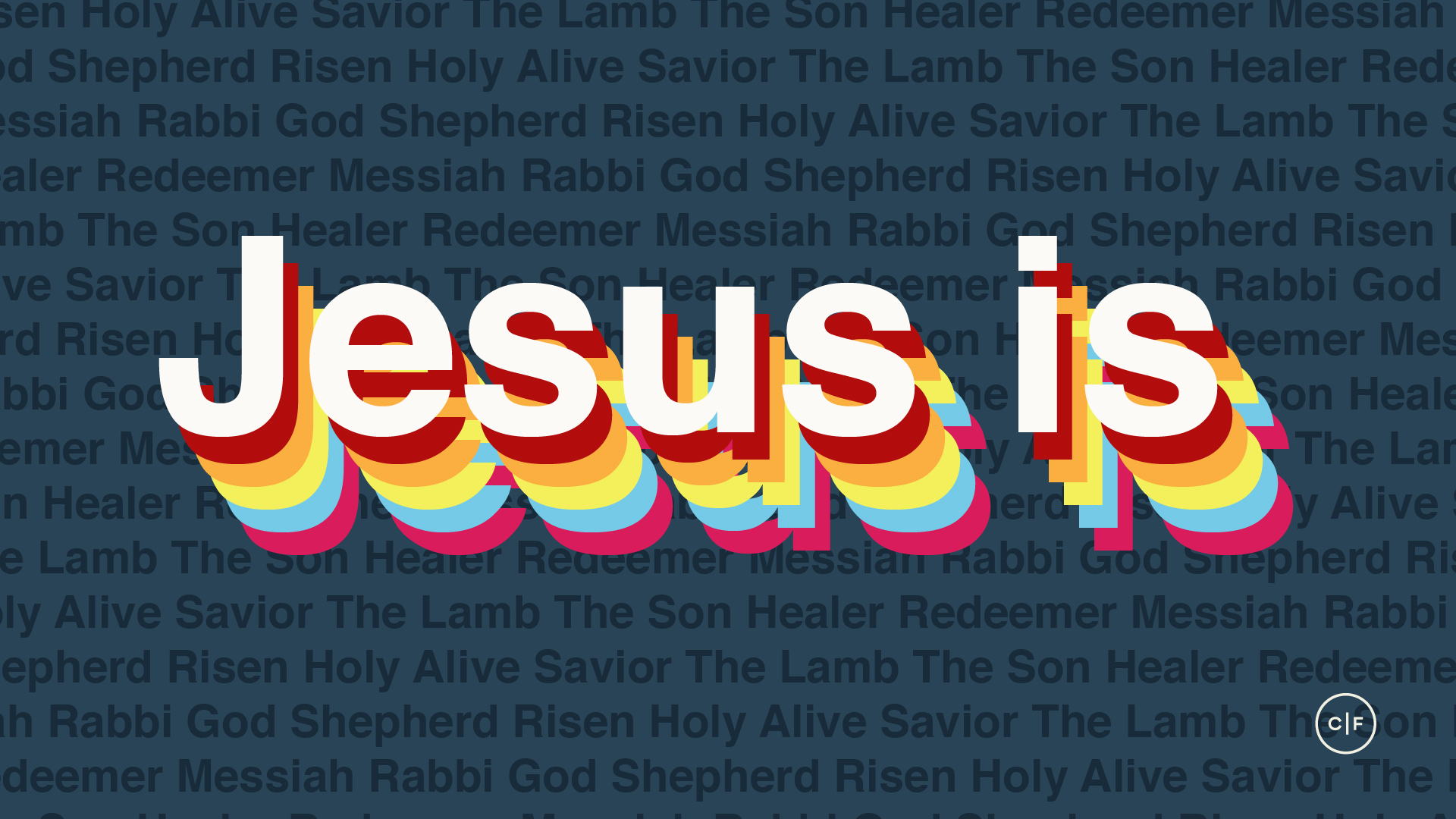 Jesus Is - Week 4 - Sept 28.29
BEFORE YOU GATHER
Familiarize yourself with this Group Study Guide.
If you missed it, CLICK HERE to watch the weekend sermon.
Spend some time in prayer before your group gathers.
To prepare for discussion, CLICK HERE for a few facilitation tips.
As a leader you always have the option to use some or all the questions and/or write your own questions.
GROUP DISCUSSION
Opening Prayer: (1-5 minutes)
In light of what God is saying through this week's message, here's a suggestion of how your group can invite God into your time together.

Jesus, help us live our lives the way You did. Help us love our enemies, do for others what we wish others who do for us, consider the poor and the hungry, consistently remember Your new Kingdom and Your new covenant, offer mercy over judgement, and always offer an invitation to know You. Help us believe that you can calm any storm and any wind that whips up the waves in our lives. Help us live a life like an evangelist whose chains have been broken and who demons have fled. Help us push our way to you in order to receive our healing and believe you can do anything, even when it may feel like our prayers have been delayed. We pray this in your powerful name Jesus, Amen.
Quick Connection: (5 minutes)

Have you ever been in a bad storm/situation where you felt you were in danger or not in control? What were some of the thoughts you had during/after the storm? What did you learn in this situation that may help you in the future?
Group Discussion: (30 minutes)
This week we will explore what love requires in this continued look at who Jesus Is.
Open your Bibles and together read Luke 8:22-25.
Take time to get in the boat with the disciples. Experience both the panic and peace.
Like the disciples in the boat, when we hit a rough patch in our lives, our faith is truly tested. Describe a time when your faith was tested. How did this hard time cement that your faith in Jesus was solid & true?
What waves are terrifying you? Ask yourself the same question that Jesus asked His disciples, "Where is your faith?"
Read Luke 8:26-39 together.
Jesus said, "Return home and tell how much God has done for you." Sharing your stories with your neighbors, co-workers, friends, family is the best way to be an evangelist of God's rescue.
What have you seen God do for you personally? What aspects of His power have you personally witnessed?
Read Luke 8:40-55 together.
Does your faith in Jesus cause you to push through the crowd and reach for Jesus & His promises at any cost?
Have you experienced a time in your life where you felt God was distracted from your request? How did Jesus prove Himself to be exactly what you needed?
What do you currently need from Jesus? In what area of your life do you need to hear Jesus say, "Don't be afraid; just believe.."
CLOSING PRAYER (5-15 minutes):
In light of what God is saying through this week's message, here's some suggestions of what your group could talk about with God in prayer.
Take turns praying over the ways that the group shared that you need Jesus. Pray together believing that He can calm your storms, scare away your demons, heal you when doctors have given up, and bring back your children after you thought you had lost them.
Pray that your faith is securely held in Jesus during your storms.
Pray to be the best evangelists that our East Bay neighbors need. Pray that they can experience a powerful, rescuing God who calms the winds and waves and commands demons to flee. Pray for opportunities to tell your powerful story
Pray that our faith always pushes through the crowd to get to Jesus and trust He has not forgotten our requests. Pray to not be afraid but only believe.
CHALLENGE FOR THE WEEK:
Ask Jesus to calm your storm. As He begins to calm your storm, keep track and document/journal the ways He does it as an eye-witness account of His power.
Read and study Luke Chapter 8 again. Allow time for the Holy Spirit to continue to reveal ways your faith in His power and His promises can be strengthened. In what ways is Jesus telling you, "My child, get up!"
Memorize Luke 8:48, replacing the name "Daughter" with YOUR name. "Then Jesus said to her, 'Daughter, your faith has healed you. Go in peace.'" Spend time meditating on how Jesus connects, faith, healing and peace.