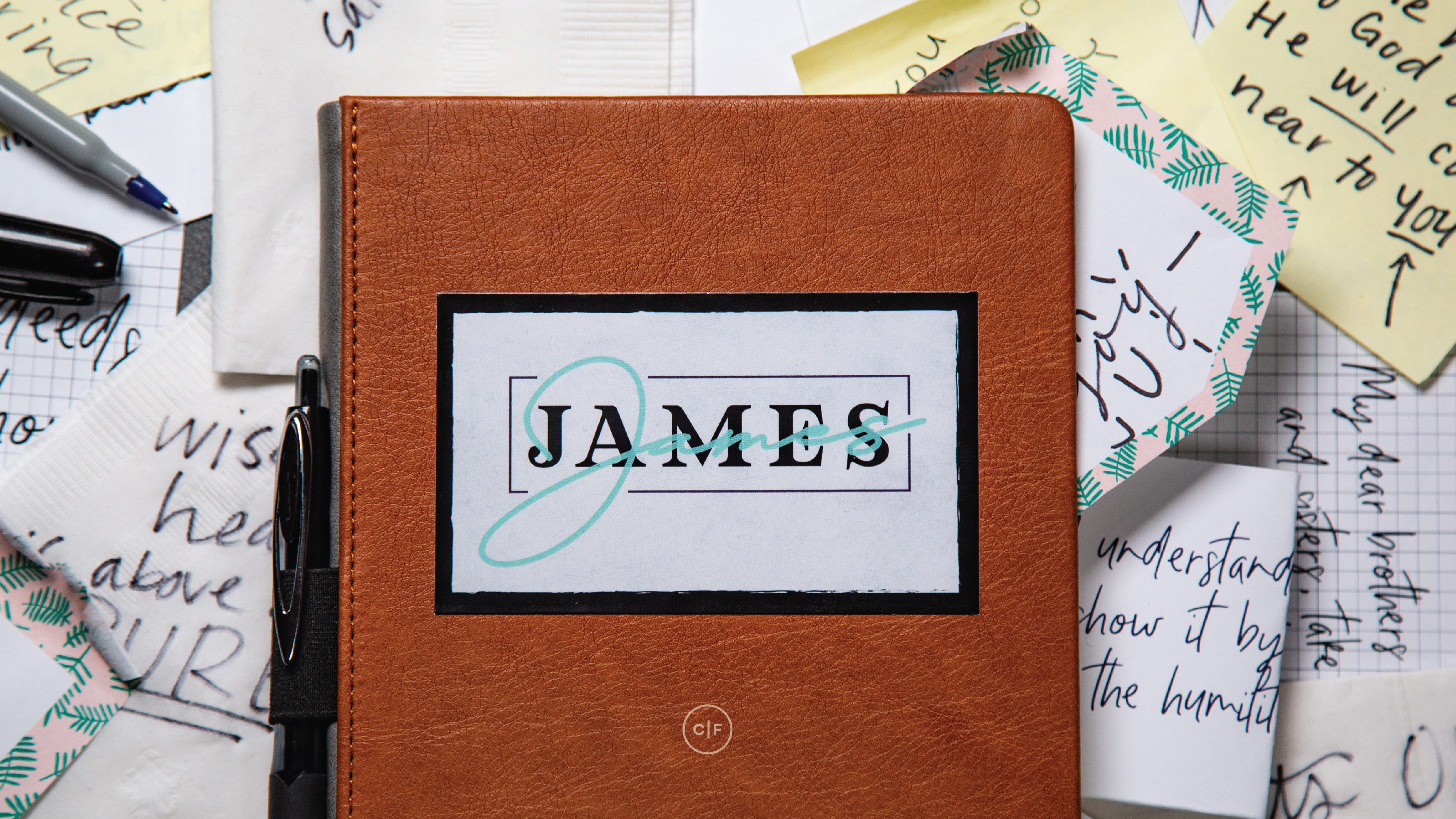 James - Week 4 - March 9/10
BEFORE YOU GATHER
Familiarize yourself with this Group Study Guide.
If you missed it, CLICK HERE to watch the weekend sermon.
Spend some time in prayer before your group gathers.
To prepare for discussion, CLICK HERE for a few facilitation tips.
As a leader you always have the option to use some or all the questions and/or write your own questions.

GROUP DISCUSSION
Opening Prayer: (1-5 minutes)
In light of what God is saying through this week's message, here's some suggestions of how your group can invite God into your time together.
Jesus, thank You that You came to Earth so that we could be made alive in You. Thank You bringing our faith to life so that our works and our actions match our faith. Help us take steps of faith that will prove our faith. We have been adopted by You. Help us walk by faith and not by sight. Help the fruit of our faith appear. We believe we were created in Jesus to do good works to bring You glory. Thank You for Your example of caring for others. May those around us be drawn toward You and believe in You because they see our faith in You lived out in bold ways. In Jesus' Name we pray, Amen.
Quick Connection: (5 minutes)
James says that our faith will produce daily, faithful action - that's how we know our faith is alive. It's like breathing - we just naturally begin to do what we have come to believe.
What are some small things you do every day that proves your faith is alive - that your life is becoming an imperfect but sincere imitation of Jesus? (ie, reading your Bible on a plane, praying for and caring deeply about the needs of others, etc.)
Group Discussion: (30 minutes)
This week we will explore how our actions prove our faith. We DO our faith. Faith is a verb.
Open your Bibles and together read James 2:14-17.
If someone was observing you this past month, would they assume you might be a Christ-follower? Would they see enough Jesus in your actions to cause them to suspect that you were a believer?
...and then, the more they got to know you, would the Jesus in you cause a reaction in them?
James says a faith-filled church takes care of each other. Talk together as a group about ways you can help meet a need in your group/our church.
Read James 2:21-26. In these verses, James shifts the conversation to another way we demonstrate our faith - by taking obedient risks.

Abraham's obedience before he understood what was going to happen made him a model of genuine faith.

Rahab's faith was the kind of faith that said goodbye to the past. The converted Canaanite woman of ill repute became one of Jesus' great-grandmothers.
Whose story do you identify more with - Abraham's or Rahab's? Why?
Has God asked you to obey Him before you had any idea where your obedience would take you? Share an example.
During His ministry on earth Jesus often rewarded active faith. Are there times when you think, "I believe...but there are places where I still have doubt." if so, does this stop you from having active faith?
Share an example of when you might say, "I want to act out of faith [in this particular area of my life], but I don't know how."
Take a moment to pray over everyone who shares. Ask God to show us how to have active faith even when it's hard. Pray that we keep our faith when it becomes harder to believe.
CLOSING PRAYER (5-15 minutes):
In light of what God is saying through this week's message, here's some suggestions of what your group could talk about with God in prayer.
Take a moment to pray for those living out true religion (James 1:27):


Missing Man Ministry and the women and families they are serving.
Families in our church that are putting their faith in action with foster care, child advocacy, adoption or serving children in another country.
Ask God to give direction on how you can begin/continue serving those in need.
Thank God for answered prayers and miracles through active faith.
Pray to keep the faith, and let God be in charge of the results. When we don't get what we ask for, that is when our faith is tested the most. It takes more faith to keep believing after that than it did for you to ask. When God disappoints us, we can be sorely tested.
Pray that we can keep praying and ask again. Pray that we can continue to take steps toward Jesus and reach out in faith.
CHALLENGE FOR THE WEEK:
Read the entire book of James everyday. Listen to the audio version on your Bible mobile app as you commute/work-out/do the dishes.
Memorize James 2:17 - "So then faith that doesn't involve action is dead."
Take the next step of faith God is calling you to. What is your faith telling you to do? Do that! That's all God expects. If you don't know what that is, ask God for it.
RESOURCES FOR FURTHER GROWTH & DISCIPLESHIP