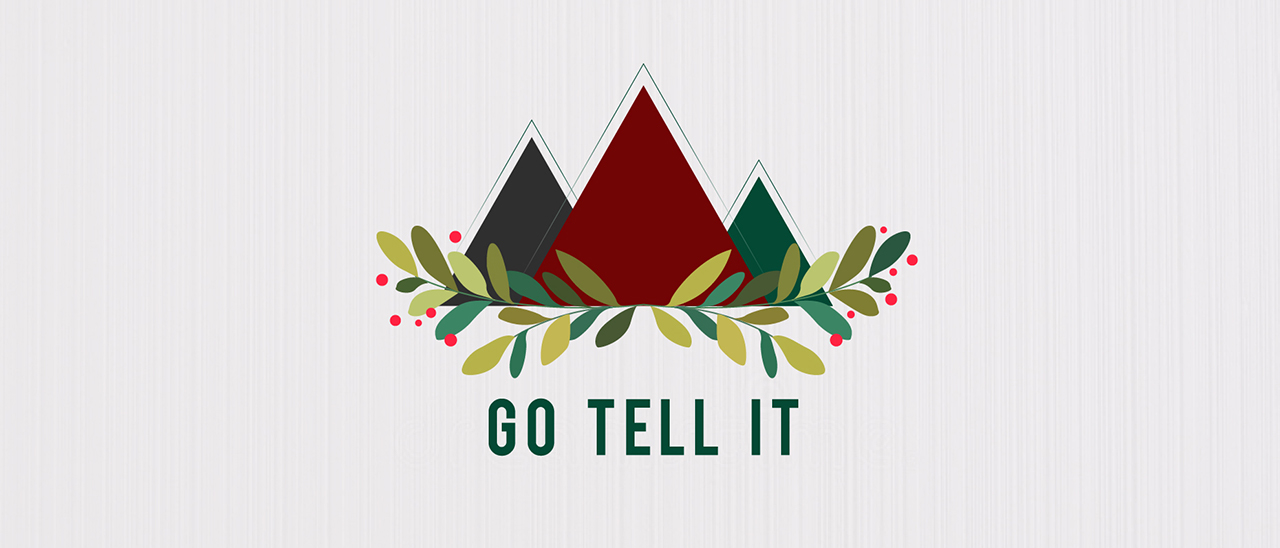 Go Tell It - Week 4 - Advent 2018
BEFORE YOU GATHER
Familiarize yourself with this Group Study Guide.
If you missed it, CLICK HERE to watch the weekend sermon.
Spend time in prayer before your group gathers.
To help you prepare, CLICK HERE for a few facilitation tips when it comes to leading difficult and potentially controversial discussions.
As a leader you always have the option to use some or all the questions and/or write your own questions.
**PLEASE NOTE: THE STUDY GUIDE FOR THE NEXT TWO WEEKENDS (DECEMBER 22/23 AND DECEMBER 29/30) WILL BE A MODIFIED VERSION DUE TO THE CHRISTMAS AND NEW YEAR CELEBRATION'S.
GROUP DISCUSSION
Opening Prayer: (1-5 minutes)
In light of what God is saying through this week's message, here's some suggestions of how your group can invite God into your time together.
Pray that the busyness and distractions of this season would not overshadow the meaningfulness of Jesus' birth.
Pray for perspective and discernment in thinking about our identities.
Quick Connection: (5 minutes)
What does your name mean? Is there a story to how you were named?
Group Discussion: (30 minutes)
Open your Bibles together and read Matthew 1:18-25.
What did it mean for Joseph to surrender his right to name the baby? How would you feel if someone tried to name your child for you?
Read Philippians 2:10-11. What does it mean that Jesus is Lord? How do we put that into practice today? What rights is God asking you to surrender?
In the Bible, names were directly related to your identity. Today, where do our identities come from? How do we communicate our identity to others?
In the Bible, there were instances where you could be renamed when your identity changed. Have you ever felt like God was renaming you, changing who you are?
Sometimes we try to rename God, to bend Him to our will. Have you ever tried to do that? How did it turn out?
There are many names for God in the Bible. Which of the names of God are most meaningful to you?
CLOSING PRAYER (5-15 minutes):
In light of what God is saying through this week's message, here's some suggestions of what your group could talk about with God in prayer.
Pray that God would identify areas that need to be surrendered and give us courage to give those areas over to Him.
Pray that we would not bend or distort God's name or who He is.
CHALLENGE FOR THE WEEK:
Think about where you get your identity from. Then think about that moment in heaven when God will reveal fully how he created you. What areas do you need to work on to get closer to who He created you to be?
RESOURCES FOR FURTHER GROWTH, DISCUSSION & DISCIPLESHIP
Christmas is a time to celebrate and remember. It's a time to spend with family and friends. It's a time to serve our neighbors. It's a time slow down and reflect on who Jesus is.
During this season, we encourage you to tell the story of Jesus to your family, coworkers, and neighbors. Christmas is one of the easiest times of the year to share the good news of Jesus and invite family and friends to church. We encourage you to invite at least one person to come with you to a Christmas Eve service this year!
Join us for a Christmas Eve service at one of our five campuses over three days as we celebrate our coming King! Click Here to find Christmas Eve service times and locations - as well as Spotify playlists, phone wallpaper, and more!

**As a reminder: The Study Guide for the next two weekends (December 22/23 and December 29/30) will be a modified version due to the Christmas and New Year celebrations.