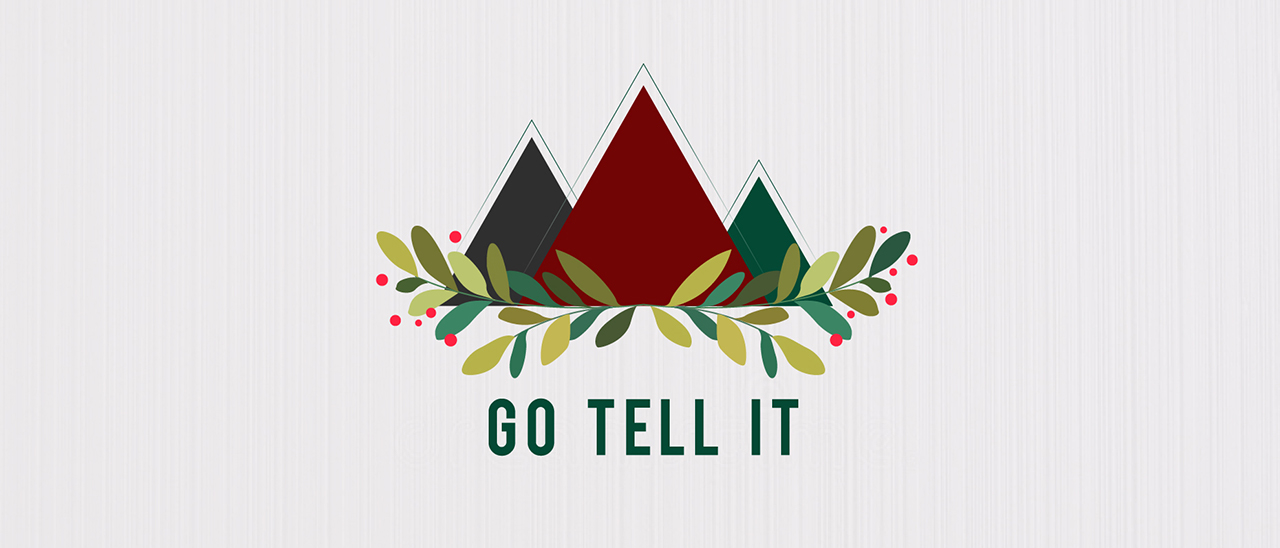 Go Tell It - Week 3 - Advent 2018
BEFORE YOU GATHER
Familiarize yourself with this Group Study Guide.
If you missed it, CLICK HERE to watch the weekend sermon.
Spend time in prayer before your group gathers.
To help you prepare, CLICK HERE for a few facilitation tips when it comes to leading difficult and potentially controversial discussions.
As a leader you always have the option to use some or all the questions and/or write your own questions.
GROUP DISCUSSION
Opening Prayer: (1-5 minutes)
In light of what God is saying through this week's message, here's some suggestions of how your group can invite God into your time together.
Praise God for this season of Advent, for the chance to anticipate the arrival of our Savior.
Pray that God would deepen your understanding of his Son's arrival this Advent season.
Consider praying the following verses together:

If you are experiencing joy and have much to celebrate, praise God! (James 1:17)

If you are walking through a season of sorrow and frustration, ask God for direction and discernment on how to allow him to meet you in those places. (Psalm 34:18)
Quick Connection: (5 minutes)
Thanks to social media, email, and smartphones, we all see "feel good" videos, especially this time of year. Is there something you've seen online that has given you the "warm fuzzies" this season? If it's short and you can find it quickly, share it with the group. (Note to leader: This could quickly lead you down a rabbit trail! Be intentional about how long you spend on this opener! Don't be afraid to say, "Okay! Last one!)
Alternate/Additionally - Take a minute to consider what you expect the Christmas season to feel like? Is this season living up to that expectation?
Group Discussion: (30 minutes)
This season we are considering the following: Who was told about the birth of Jesus, why were they were told, what information were they given, and how do they respond? How should WE respond?
This week we will explore...
Mary and Elizabeth's ability to embody supernatural joy because of their deep belief that God makes good on his promises.
What promises did Gabriel make to Mary? What promises did the Angel make to Zachariah? (Luke 1:13-17; 1:31-33)
Consider promises that God has made to YOU! Have you experienced His faithfulness in these promises? Are you struggling to believe that He will make good on his promises? (Mark 9:23-24)
Who in your life can affirm God's faithfulness on His promises and encourage you to continue to obey? Who in your life could YOU encourage that God's will be faithful?
The promises made to Mary & Elizabeth could have stirred up deep anxiety and/or overwhelming joy. Mary & Elizabeth chose joy and supported each other in that decision. In what ways did they support each other and encourage each other in their decision to choose joy?
Joy is not something that we muster up on our own. It is the result of the work of the Holy Spirit in our life. (Gal. 5:22 & Psalm 16:11) Our decision to choose joy is not about creating a feeling, it's about making room for the Spirit to move in our lives. What can you do this week to allow the Spirit of God to create joy in your heart?
CLOSING PRAYER (5-15 minutes):
In light of what God is saying through this week's message, here's some suggestions of what your group could talk about with God in prayer.
Ask God to help you let go of what you think "JOY" should feel like or be like. Ask Him to help you accept the joy He brings into your life.
Ask God to help you respond to His promises with obedience.
Ask God who can affirm your obedience and belief in His promises.
Ask God to create authentic, Holy Spirit produced joy in your heart.
CHALLENGE FOR THE WEEK:
How might you spread the authentic joy God is creating in your heart? Where can you bring the unique kind of joy God has created in you? Who might be encouraged by the joy you have, given your circumstances?