What does love REQUIRE of us all?


Jesus said that loving God and loving our neighbors is the foundation of our faith. As Christ-followers, we have the responsibility to live this out in every area of our lives. We invite you to join us for the Listen. Learn Love. series, where we will unpack some difficult yet necessary biblical truths centering around racism, injustice, and sin.
Our prayer is that each weekend would open a conversation that you continue in your home with your family, friends, and community group. That each of us would enter into this next season with a posture of listening, learning, and looking inward at our own hearts. That we would return, over and over again, to the one question...

What does love require of us all?

Below you will find a variety of resources (books, websites/articles, etc.) for individuals, parents, kids, community groups, etc. that encourage ways we can listen, learn, and love.


Joining us for week 3 of our Listen. Learn. Love. series is guest speaker, Dr. Brenda Salter McNeil. More info listed below!
---
---
WEBSITES AND ARTICLES
---
RESOURCES FOR PARENTS AND KIDS
For a listing of books for kids (preschool to elementary), digital content, and more, visit our Parent Resource Page
---
SERMON RESOURCES
PERSONAL DEVOTIONAL AND PRAYER



Daily Steps is a weekly devotional guide designed as a companion to our weekly CF study guide. The focus is on an individual's journey, rather than group study and discussion.


CF Daily Steps - New every week!


YOUTUBE


Beyond Sunday



After each weekend sermon, our pastors and various church leaders will sit down for a 15-20 minute video discussion around the weekend's sermon taking the conversation further. These videos are posted every Monday on our YouTube channel. Don't forget to subscribe!

Beyond Sunday

Sermons

Did you miss a weekend sermon? Looking to rewatch the previous weekend's message? Our YouTube channel is a great place to get caught up, rewatch worship videos, etc.
---
ACTIONS
Here are 10 simple things* that we can do RIGHT NOW to listen, learn, and love.

Learn about other people and their culture but go beyond foods and festivals.
Explore the unfamiliar. Put yourself in situations where you are in the visible minority.
Be a proactive parent. Talk to your children candidly about race.
Don't tell or laugh at stereotypical jokes.
Think before you speak. Words can hurt whether you mean them to or not.
Be a role model and help educate others regarding your own experiences.
Don't make assumptions because they are usually wrong and stereotypes are destructive.
Consider how race and racism impact your life and those around you.
Don't let others get away with biased language or behavior- speak up and out.
Call or text a friend that falls in a different ethnic group and plan for some (safe, social distanced) hangout time.
---
*This list was inspired by Margaret Mitchell, President & CEO, YWCA Greater Cleveland in her 2012 article "10 Steps Toward Bridging Our Painful Racial Divide."
---
Joining us for week 3 of our Listen. Learn. Love. series is guest speaker, Dr. Brenda Salter McNeil.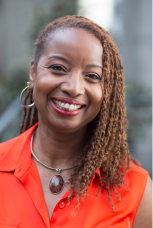 Dr. Brenda is a dynamic speaker, author, professor, and thought-leader with over 30 years of experience in the ministry of reconciliation. She is known as an international trailblazer, leading individuals, communities, and organizations to biblical reconciliation. She was featured as one of the 50 most influential women to watch by Christianity Today in 2012. She is the author of...
---
If you would like to connect, we are here for you.
Email
---