High School Church - Livermore
Every Tuesday, from 05/31/2022 to 06/27/2024, 7:00 PM - 9:00 PM

Welcome to C|F High School Ministry!
Scroll down to learn more about the ministry, what to expect, what to look forward to, and how to get involved. If you have any questions, please do not hesitate to reach out! Connect with Jake Rexroad at jaker@cornerstoneweb.org

High School Church
Upcoming Events/Camp
Serving
---
HIGH SCHOOL CHURCH

We are excited to bring our High School students together for ... High School Church! As we look at the life of Jesus and strive to follow His example, it's clear how much He cares about bringing communities of people together as a family. This is our mission with high school students.

We all need community now more than ever. As our CF Livermore High School team works hard to rebuild our community, things might look a little different than before. Our focus is on PEOPLE gathering AS the church, not on the PLACE our church will meet.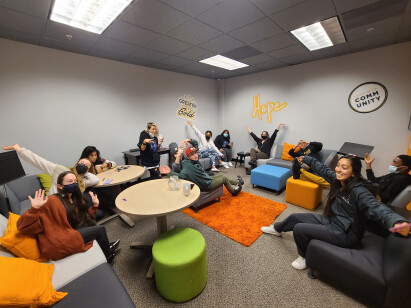 How does it work?
High School Church will meet every Tuesday night from 7-9 pm. The goal is to meet most of the time in the Student Center, sometimes in homes, and sometimes anywhere else! Think the park, the beach, bowling, at the movies, anywhere...

How will you know where to go?
Check out the dates below for the upcoming locations:
September, Tuesdays 7-9p Student Center
No registration is required.

We're excited to get you plugged into a community that's focused on growing closer together and closer to Jesus as we learn to live out the Gospel better.

---
CF High School 2023 Winter Camp: January TBD 2023

CF High School 2022 Summer Camp: July 10th-14th, 2022



Camp Update:
We started our trip at Cabrillo Lighthouse. Students explored the museum, stood on the sea cliffs, and stretched their legs before we we journeyed into the Woodlands. The dirt road winded down 9 miles to the forest floor. There we made camp amongst the towering redwood trees, banana slugs, spiders, and scorpions. (We only saw 1 scorpion. It wasn't poisonous.) Each day we ventured out into town with our small groups to the outrigger canoes, horseback riding on the beach in Manchester, or exploring the 42 acre botanical gardens and the historic town of Mendocino. We ended each night with a message, small group discussions, a bonfire, board games, or completing one of the 1000 piece puzzles.
Our camp theme was entitled, What I Really Want. We explored how to use freedom in ways that benefit ourselves and others—which is what we really want, isn't it? We discovered that we have more freedom than we may think. We were challenged to consider how to use freedom in a way that honors God, ourselves, and others. Ultimately, we discovered that getting what we really want begins by realizing what true freedom is all about.

Contact JakeR@cornerstoneweb.org
---
High School and Middle School March Service Project Recap:
Kids Against Hunger Packing Event
We had a great opportunity to help provide relief for Ukrainian refugees. Our student ministries were a part of a food packing event at Kids Against Hunger (KAH) in Pleasanton. KAH has already sent 150,000 meals to the Ukrainian border, and we added over 16,000 meals to that number!
---
Questions? Email Jake Rexroad at JakeR@cornerstoneweb.org