Middle School Ministry - Livermore
Every Sunday, 9:00 AM - 10:15 AM

Welcome to CF Middle School Ministry!
Scroll down to learn more about the ministry, what to expect, what to look forward to, and how to get involved. If you have any questions, please do not hesitate to reach out! Connect with Chelsie Anderson, Middle School Pastor, at chelsiea@cornerstoneweb.org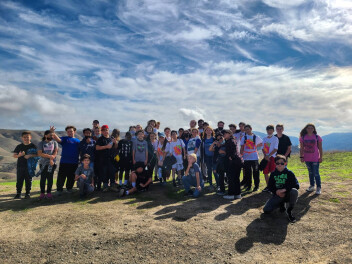 JUMP TO...
What can you expect in CF Middle School Ministry?
Upcoming Events/Camps
Sundays
Wednesdays
Serving
Meet Your Middle School Pastor
---
What can you expect in CF Middle School Ministry?
Sundays: Middle School Ministry gathers on Sundays at 9 am. This is a great space for middle schoolers to be welcomed by leaders who love Jesus and desire to build community with our students. Throughout 2022, students will learn how to live out their faith, how to read the Bible, and participate in large group discussions. For our kinesthetic learners, students will be invited to join us in hands-on activities that will develop their understanding of who Jesus is and how to live for Him.
Wednesdays: On Wednesdays, we offer small groups during 3 different sessions throughout the year. Your student can anticipate meeting their leader, sharing a meal or snack with their community, group games and activities, weekly biblical teaching, small group discussion, and the opportunity to develop mission-mindedness.
Volunteering: A key aspect of being a part of our middle school community is volunteering. We serve others to show love and to practice having a servant's heart. In 1 John 4:19, we read "we love because he first loved us." In Matthew 20:26-28, we learn "...instead, whoever wants to become great among you must be your servant, and whoever wants to be first must be your slave—just as the Son of Man did not come to be served, but to serve, and to give his life as a ransom for many." It is the hope of the middle school leaders and pastor that students would first desire to serve others simply because Christ served us.

If you are interested in volunteering on our team, please click here. I want to help!
Camps: Students can anticipate 3 different camp experiences; Fall (Oct), Winter (Feb), and Summer (June). These can range from day trips to over night experiences. We often will have moments in our lives where we need to get away from the distractions and monotony of our day to be with Jesus, to remove distractions, and to be with our community for extended periods of time. This is where our retreats come into our ministry. Jesus often "...went out to a mountainside to pray, and spent the night praying to God." (Luke 6:12) As we seek to be more like Him, we too will retreat to a place with our students to draw nearer to Him.
UPCOMING DAY CAMP: Middle School Winter Camp, February 25th, 2023 (Subject to Change)
---
Middle School Ministry At A Glance
UPCOMING EVENTS/CAMPS

Thanks you for joining us for our Events!



eVENTS-
MS Christmas Tailgate Party: Wednesday, December 7th, Time 6:30p-8:30p
FREE- We'll meet in the Chardonnay Shopping Center on East Ave, near T-4. We'll wear our ugly Christmas sweaters, eat some Holiday treats, and drinks some warm beverages in the parking lot. Then we'll walk as a group to Deacon Dave's and enjoy the light show! FREE
MS Service: Christmas PJ Party
Sunday, December 18th, Time 9am-10:15a, Student Center
FREE- Join us for our final Middle School Christmas Service as we celebrate the birth of our Savior with festive music, Christmas crafts, morning treats, a showing of a favorite Christmas movie, and fellowship with our middle school community!
CAMPS


Camp MayMac: Our group retreated to Camp MayMac in Felton, CA. We had lots of fun exploring the hiking trails, the beach, tide pools, walking through the redwoods, boardwalk time, and playing volleyball and basketball! We even have an evening bonfire with s'mores, live worship, and teachings on The Prodigal Son.

SUNDAYS
November-December: Sunday Services at 9 am in the Student Center at CF Livermore.
Shake It Up Preview Video from XP3 Middle School on Vimeo.
12/04 at 9a Shake It Up (Because of Jesus, we can choose joy): Week 1
12/11 at 9a Shake It Up (Jesus is the center of the Christmas story): Week 2
12/18 at 9a PJ CHRISTMAS PARTY: Shake It Up (Jesus shows up in the middle of the mess): Week 3
WEDNESDAYS
Upcoming: January 18th- March 29th: Wednesday Groups at 6:30 pm in the Student Center at CF Livermore Register Here

SERVING
God is doing incredible things within our Youth Ministry! If you are interested in being a part of it please complete the form below and our Youth Ministry Staff will be in touch. I want to help!

Holiday Serve Opportunities
There are so many ways to love those around us in our community. Here are a few ways you can help out!
---
Gift Drive
We are partnering with Young Men's Service League (YMSL) as they host a "Shop. Play. Wrap." event for families with special needs. The goal of the event is to provide a safe and welcoming space for individuals with special needs to be able to celebrate the season by "shopping" for gifts for their family members from a free holiday gift bazaar and where they can create holiday crafts and cards. Parents/caretakers are encouraged to drop off and spend some time being refreshed in a respite designated space. What a fun event this will be for so many and a sweet way to wrap alongside these wonderful families!
Our GIFT DRIVE will help provide gifts for the "shopping!" We are collecting gifts for adults (sweaters, cologne, lotions, belts, ties, beanies and scarfs, etc.) as well as gifts for kids of all ages (toys, games, books, etc).
Collection dates and times at Cornerstone Fellowship starting
Nov 22nd and ending Dec 8th:
Sundays - 9 am to 1 pm
Tuesdays -10 am to 5:30 pm
Thursdays - 10 am to 8 pm
We will not be open for gift drop off on
Thanksgiving day!
If you know a family with special needs that would be blessed
to participate in this, click here for the sign up form!
---
Adopt a Family for Christmas
Christmas can be a lonely and difficult time for so many. As we know the incredible hope we have in Jesus, there is opportunity to walk with families/people during this time to show and demonstrate Jesus' love in very tangible ways. Adopting a family for Christmas is an opportunity to get to know them and to help provide gifts and support to them specifically around the Christmas holiday. This can be gifts for each family member, but can also include groceries, Christmas dinner (together!), stocking stuffers, gingerbread house kit and other family activities. It's an opportunity to demonstrate God's love in a very tangible way and open a door to relationship as well.
Adopt a Family as a family unit, as a community group, as a group from work, as neighbors, or as an individual!
Click the link below to Adopt a Family!
---
Looking for Help This Christmas?
If you are going through a hard time and can use some help this Christmas, we want to walk with you. Please fill out this form so we can contact you for more information on what is needed and ways we can be a blessing.
If you have any questions about any of these serving opportunities, please connect with Erin via email at ErinM@cornerstoneweb.org
---
Buddy System Ministry: We are looking for students who would like to learn more about welcoming our special needs community into Youth services. If you'd like more information on how you can serve students in our church and work alongside a ministry mentor trained in special needs ministry let us know!
What is the Buddy System? It is a way to have an inclusive environment at our middle and high school services and activities. We want people to form meaningful friendships through this program as well.
Why are we implementing this system? Jesus commanded us to love the Lord our God with all of our heart, soul, mind, and strength and to love our neighbor as ourselves. Our neighbors include our friends who may be different from us. This program will build one-to-one friendships between people with and without intellectual and developmental disabilities, offering social interactions while improving the quality of life and level of inclusion for a population that is often isolated and excluded.
---
Meet your Middle School Pastor




Chelsie Anderson has lived in the Tri-Valley area for over a decade and made Cornerstone Fellowship her home church in 2010. She graduated from Azusa Pacific University. She spearheaded Wells Middle School Wyldlife and Dublin High Young Life in 2013. She then began teaching Biblical studies courses at Valley Christian Schools in 2015. In 2018, she went on full-time staff at Cornerstone Fellowship as the Connect Lead and in 2021 she was hired as our Middle School Pastor. She is a wife and mother of two daughters.

A few things you may not know about her are: she has been swimming with great white sharks, she was attacked by monkeys, and she's eaten ostrich but is now a vegetarian (no correlation). Can you believe she hasn't eaten bacon in 14 years?! She is passionate about supporting local businesses, hiking the East Bay regional trails, serving our community, rescuing pit bulls, and outdoor adventures with her family and friends.

Connect with Chelsie