With every new series at Cornerstone, we want to offer insight into that series and how the message and/or additional resources available can relate to you and/or to a Community Group.

With the current shelter in place orders, we want to do everything we can to support our groups and HOW they are meeting! Check out the link below for FOUR simple ways to keep your group active and close with the HELP of technology!

HOW TO HOST A GROUP ONLINE


CURRENT SERIES:

"1 Peter"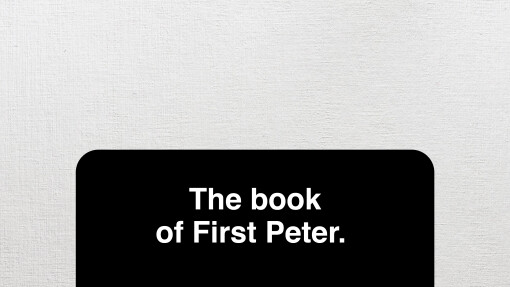 Endurance. Encouragement. Perseverance. Redemption. There is power in the journey.
Join us for six weeks as we open, study and unpack the book of 1 Peter.
Study Guide: This is a great resource for you and your Community Group to use as you further study what you heard during the sermon.
Daily Steps: This is a devotional guide designed as a companion to our weekly study guide, but it's focused on an individual's journey, rather than group study and discussion. Think of it as an invitation for you to personally encounter Jesus — just you and him — daily.

Scroll DOWN for additional instructions for each opportunity.
---
STUDY GUIDE
Let's get ready!

Why a study guide?
This study guide exists to help you process and better understand the message. Feel free to answer some or all of the questions. You can also choose to focus on one aspect that speaks to the group. Think of this study guide as a resource to help you and your group listen to the Holy Spirit and respond to His calling.
ANXIETY AND FAITH

If you are struggling with anxiety especially during this season, you may find this 3-part essay especially helpful.

PART 1
PART 2
PART 3
Ready to head back to the study guide?


DAILY STEPS
Daily Steps is a devotional guide that is designed as a companion to our weekly study guide.
INTRODUCTION
Each week, Daily Steps will guide you through three simple phases of spending time alone with God and finding renewal for your mind and refreshment for your heart. And the beautiful thing about the way God made us is that your next daily step may be different than everyone else's. The ways to encounter God are as unique and endless as He is. Check out the video below for a more detailed introduction to Daily Steps!
PART 1
In the first part of Daily Steps, you'll be invited to reflect on God's Word. We'll kick each week off with a short devotional message to center your mind on God and draw you further into his word with brief scripture readings for each day.
PART 2
The next step will gently guide you into a time of prayer, offering simple suggestions to get you started for the first time or enrich an established prayer routine.
PART 3
The last step is all about getting to know Jesus and experiencing His presence in new and more complete ways by perhaps trying one for the first time -- or mastering -- a spiritual practice that can help you grow in your faith and strengthen your relationship with God. Each week, we'll offer a list of spiritual practice suggestions for you to try out.
Check out the video's and descriptions below for a further explanation of some of the spiritual practices that will be suggested:
Worship and Fasting
Personal worship is a powerful way to focus your mind on Jesus and praise Him with a thankful heart. When was the last time you put on your favorite Christian worship music and sang your heart out to Him at the top of your lungs? And if you have a long commute, your car is the perfect place to give this practice a try.
Fasting from something that would give you more time with God if you gave it up. Fasting doesn't necessarily have to be food. Giving up TV, social media, or listening to music while driving can open up many minutes or hours of free time. It can be anything that God leads you to let go of for just a day, or maybe a week or a month.
Solitude and Stillness
Having intentional moments of Solitude gives the Holy Spirit more room in your heart and head to speak to you and encourage you. Solitude can be as simple as taking a walk in nature without your headphones and with the intent of seeing glimpses of God and thanking Him as you go.
Stillness, on the other hand, is different than solitude. When we practice moments of physical stillness with a posture of intent listening for God's voice, we increase our ability to sense His direction and be saturated in His loving presence.
Journaling and Creative Expression
Finally, you may want to explore creative expression as a spiritual practice. When we capture key milestones or even simple thoughts during our faith journey, we make it easier for ourselves to remember all that God has done for us and reduce the tendency to go backward in our walk. You can do this by writing in a journal, jotting down thoughts or lists in a note-taking app, or even capturing your journey through artistic expression, such as poetry or sketching.
There are so many ways to experience God's presence. What you choose isn't as important as your consistency to spend time alone with him daily If you've never done it before, start with 10 minutes, and then build up to 15, and then 30, as God draws you closer and closer to his heart. He doesn't want your duty, he simply wants your love. And the more you spend time with him, the more you'll love him.
Ready to CHECK OUT DAILY STEPS?
---
HAVE QUESTIONS?
Our Campus Community Team Members would love to connect with you.